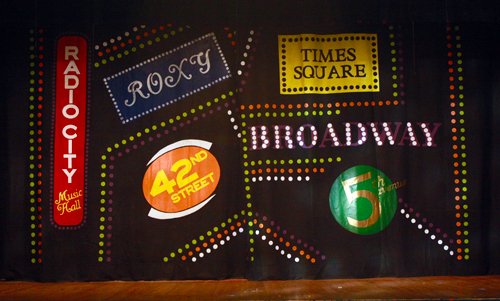 Those of you who read my blog on a regular basis, may have noticed that I drop out of sight from time to time, usually around March. This is when I pretty much check out to design a set for my kids' school play. I was in plays growing up, and I feel that the arts are extremely important to the creative development of young minds. My goal is for these kids to have the most pro experience that they can from all aspects of production. The director, an amazing woman, Desiree DiGerolamo, and the incredibly talented musical director, David Haworth, inspire these kids to brilliant performances for their age. My hope each year is that I can help support them with an aesthetic to match the great work they do and ignite a lifelong passion of the arts in the students.
Last year we did Peter Pan and this year, Annie! Because the school stage is wide but only about 12-feet high, finding backdrops can be an issue. So, I ended up painting some NYC scenes that were used for this middle school production and can be used for shows like Guys and Dolls, Thoroughly Modern Millie, and more!
To make the Broadway Backdrop (pictured above), which was used in the "NYC" song and for the opening of Act II as a background for the radio show, I used a Cricut machine to create a variety of stencils. I am quite possibly the biggest fan of Cricut from here to Craftlandia! Here I am painting away in my garage; a somewhat humorous sight for my neighbors as they are walking their dogs, and then come up my driveway to see what the play is for the year. Very fun!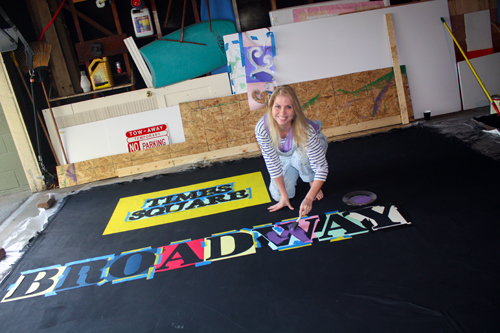 For the orphanage, I painted a cartoonish New York skyscraper backdrop with a piece of the orphanage wall on one side. This curtain opened to reveal a stationary Warbuck's Mansion set.  I decided to go with custom-built wood platform beds at 3 different heights so the audience could see the girls when they were laying down. I also wanted to make the beds sturdy enough to jump and dance on in "Hard Knock Life." I felt is was a more visually interesting use of the space as opposed to the line-up of "prison beds" that are typically used for Annie. Plus, the cost to make them vs. the cost to rent them was the same, and we can use them as platforms for years to come. The construction was basically a 2×4 frame that supported thick plywood with cross-pieces under at the middle, and 4×4 posts at the corners. I painted the top "mattress" grey and the legs black so the beds looked good when the sheets were off. Also, for those who are reading this for ideas, instead getting a big hotel laundry basket on wheels (where Annie has to hide in to escape the orphanage), we used a big rectangular basket with a lid, and I sandwiched the bottom with plywood and castors. Much cheaper, easier to find, and easier for a kid to push than the classic hotel laundry basket.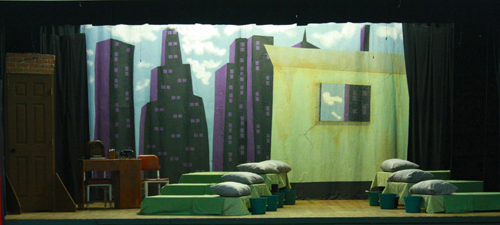 The Warbuck's Mansion set was a big hit and probably the easiest set to put together. My fabulous husband, John Sparano, is a set decorator and was able to get the rentable Christmas Decor from Green Set and the historical items such as FDR's wheelchair from History for Hire. I purchased bolts of fabric from downtown Los Angeles, where you can buy a 50yd. bolt for $1 a yard in solid color satin and under $2 for certain sheer fabrics like white chiffon. I sewed curtains with pockets at the top, slid them on to PVC, and then zip-tied the PVC to the existed pipes that spanned the stage. (Note: Be sure to put flame-retardant on sheer or delicate fabrics such as these in a theater and keep them away from the lights.) I reupholstered the chairs with red fabric and painted a red carpet on to white platforms to finish off the look. We also added white twinkle lights behind the chiffon which looked absolutely magical as the wreaths and trees were lit too!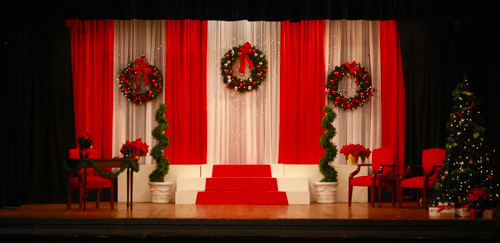 So, there you go. My career is picking up a bit with recent Today Show appearances and a new TV show in the works. I don't think I'm going to be able to design the set next year :(. Also, my son just graduated 8th grade and has been accepted into a high school media program, because he is absolutely awesome at animation!!!!! Here's his video "I Have A Tablet."  He's Dylaneggs on Youtube and I predict he's going to be the next Tim Burton. (Check out his animated series "This World is Crazy"). OK, I know I sound like a bragging mom but so what!!!!!!!!!!!!!!!!!!!!!!!!!!!!!!!!!!!!!!!!!!!!!!!!!! I'm really proud of him and happy to help out at his former school; a place where art is celebrated and future artists are fostered.