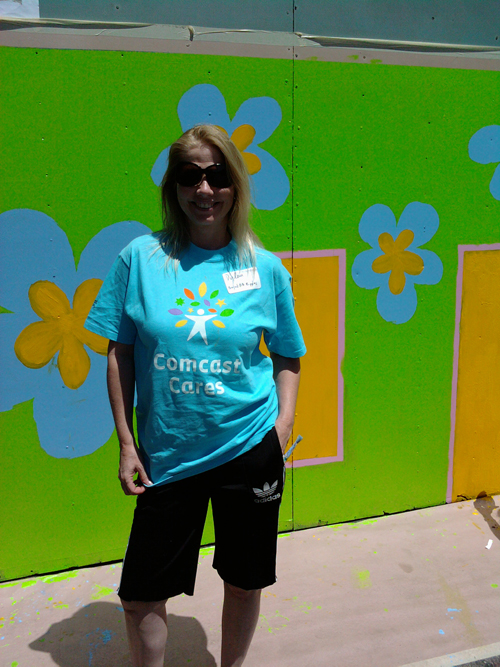 To kick off the first weekend in May, my family spent the day volunteering around town, or rather at an inner city school and on the shore of the Pacific Ocean. As much as I would love to have you all think that we're "just that way," our do-gooder impetus was partially prompted by the need to fulfill community service hours at my children's school. But, it was a really cool thing to do with the family.
My son and I helped to brighten up a Los Angeles public school with Comcast Cares. Comcast, the cable communications company, has an annual day where they bring together tens of thousands of Comcast employees, their families and friends to make a positive impact in neighborhoods across the country. Last year on April 24, 2010, spanning 39 states and Washington, D.C., Comcast Cares Day projects included rehabilitating public parks, planting sustainable food gardens, cleaning up schools and more.
My son and I painted the handball court pictured above, which was only one of many inspiring refurbishments from wall murals to asphalt art with a "reach for the stars" message to help kids be their best at school.
My husband and my 7-year-old daughter spent the morning volunteering to clean up a beach in Santa Monica as part of her school sponsored Heal the Bay effort. Teams of a few kids and parents were assigned a section of beach and given a trash bag which they filled mostly with cigarette butts. Yes, little cigarette butts that look like food and choke seagulls filled a big bag. They picked up other litter as well not only with the goal of cleaning up the coast, but also to find out what should be banned from the beach.  
Summer is almost here, and yes we have exams, papers, and art projects due in that end of the school year crunch. But, I think we could all probably find the time to volunteer for a few hours with friends and family making schools and shores all bright and shiny for summer and the other 365 days of the year!