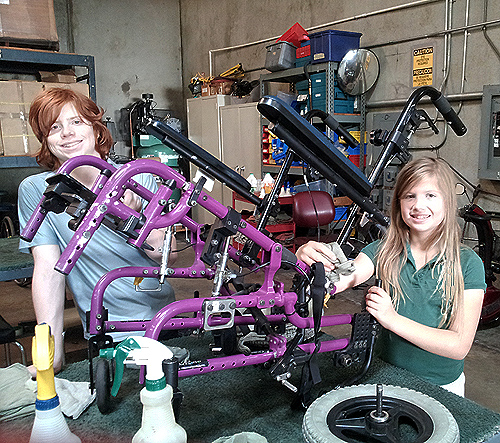 Imagine that you are a 7-year-old kid living in Africa, and you've been outside of your humble abode only once that week (or month) because you can not walk. Then, someone gives you a wheelchair and you are suddenly part of the the world, nature, play, the sun going up and down; normal life. This is what Wheels for Humanity is all about.
My kids and I volunteered a couple of weeks ago fixing up wheelchairs for kids and people who need them through this great organization. We tuned and shined up a rockin' child-size purple wheel chair, and all I could think was that it was akin to getting the family car detailed for when your child turns 16 and gets his or her driver's license. Freedom.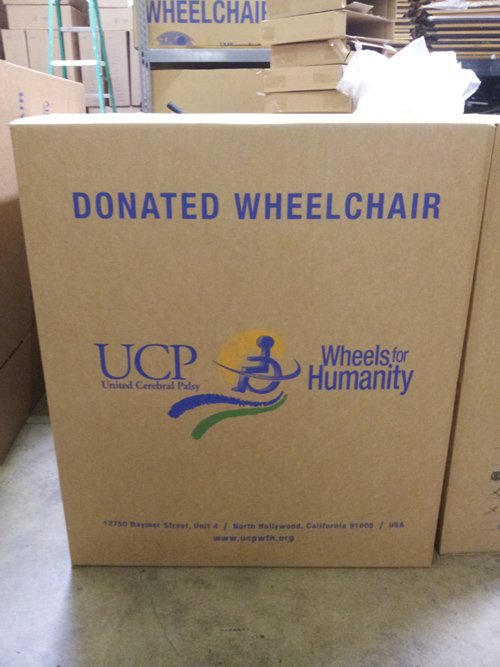 From UCP Wheels for Humanity's Website
Since 1996, UCP Wheels for Humanity's mission has been to provide increased self-sufficiency, mobility and education to people with disabilities throughout the world, without regard to political affiliation, religious belief or ethnic identity.
Operating from a 10,880-square-foot warehouse in North Hollywood, California, staff and volunteers collect and refurbish wheelchairs and other ambulatory aid equipment. (A portion of our specialized pediatric wheelchairs are purchased new, at cost, from a partnering organization in the U.S.) The wheelchairs and equipment are packed and shipped to our partner organizations. To date, UCP Wheels has worked in over 70 developing countries.
Finally, our teams of volunteer seating specialists organize seating clinics where the wheelchairs and equipment are individually fitted to each recipient – impoverished children and adults who would otherwise be unable to afford a wheelchair.
So….
Check them out here, Wheels for Humanity, and then GET in your car, WALK through their door, and HELP them out.