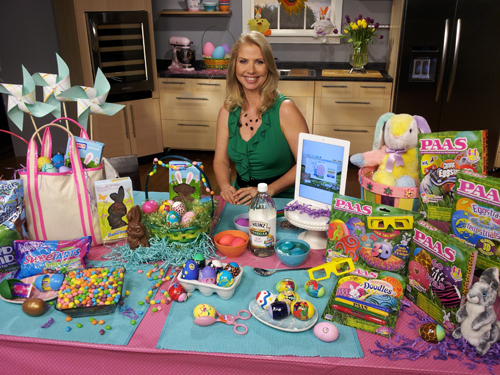 I just wrapped up an Easter SMT with PAAS, Heinz Vinegar, and Nestle. Just look at how colorful the picture is and packed with ideas!!! But the cool thing about this SMT was that I was letting viewers know about an amazing charitable gesture offered by PAAS & Heinz Vinegar.
Give Back with the PAAS/HEINZ "Egg Decorator" APP
This year, PAAS Easter Egg Dyeing Kits and Heinz Vinegar have teamed up to create a free "Egg Decorator" iPad app. For every person who virtually dyes and shares an egg, PAAS and Heinz will donate $1 to the Make-A-Wish Foundation, up to $25,000. Click here for the "PAAS/Heinz" in the iTunes App Store, download the app, and start decorating and sharing. Too Cool!!!!
Easter is such a fun holiday that really lets you be creative and crafty. The Easter basket handle in the photo above is decorated with a Wonka SweeTART Jelly Bean garland. (I brought a bag home for my kids to munch and my husband pretty much ate the whole thing!) We made the jelly bean "jewelry" by threading fishing line through the jelly beans using an upholstery needle.
For the basket centerpiece, a chocolate bunny is a must and Nestle has a couple of great ones: Nestlé Butterfinger Bunny and the Paul Frank Crunch Bunny! Both are solid milk chocolate and the crunch bunny is actually "Julius the Monkey" dressed up to look like a bunny. Very cute!
Everyone loves decorating Easter eggs; in fact over 180 million eggs are dyed and decorated each year. This year, Paas Easter Egg Dying Kits has 8 new varieties such as 3d Eggsplosion (it really is 3D) and Go Wild with really fun animal prints.
And here are a couple of egg dyeing tips:
For brighter eggs, add 3 tablespoons of Heinz Distilled White Vinegar into the egg wash or dye bath.
 When boiling the eggs, add a couple of tablespoons of Heinz Vinegar to the water to help keep them from cracking.
Happy Easter!!!!