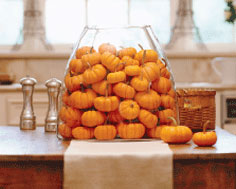 This Thanksgiving holiday centerpiece idea couldn't be easier! If you are setting it up in the foyer go for a grand glass vase and keep it simple and elegant on your Thanksgiving table so guests can chat across the holiday table.
Steps:
Purchase 10 petite pumpkins and wash them off.
Select your display vase.
Pile the pumpkins in the vase and set it on a table in your living room or in the center of your Thanksgiving dinner table.