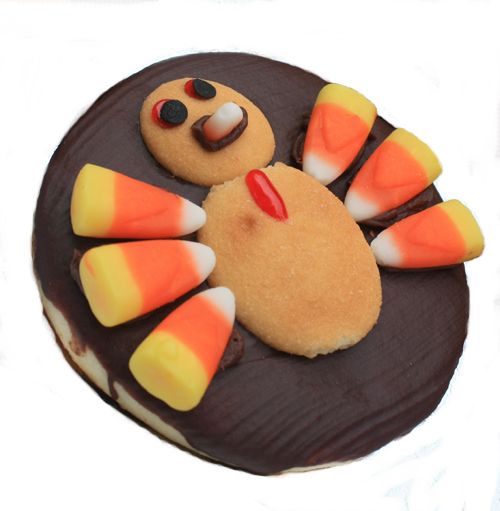 A super talented mom and good friend of mine, Nathalie Schroeder, made these Thanksgiving turkey cookies for a feast at school. Nathalie is one of these awesome moms who always greets you with a hug, always has a camera at events, and is a seriously talented creative type from food to decor. I make a point to keep an eye out for what treats she brings to holiday functions at school and how she styles her parties. She's a total pro at everything she does!
To make this Thanksgiving Turkey Cookie:
1. Here's a cookie recipe that you can use for these Thanksgiving turkey cookies. 
2. Ice the cookie with chocolate frosting and use Nilla vanilla wafers for his body. I believe Nathalie used a mini Nilla wafer for his head and a regular size wafer for his body.
3. Use candy corns for the feathers and the white part of the candy corn for his beak applied with a dab of chocolate frosting.
4.  Red gel icing works great for the turkey's wattle and to keep his eyes on, for which Nathalie used black cake decor circles but mini chocolate chips would be fine too.
Thanks Nathalie!!!!!