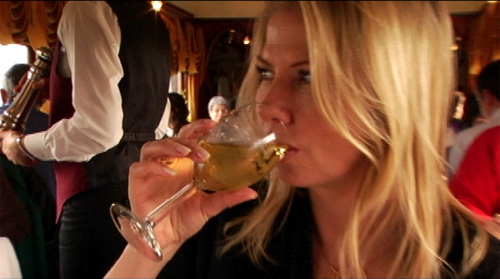 I often indulge in a glass of Chardonnay while preparing a holiday meal! These golden beauties are my top picks for holiday Chardonnay, and I invite you to enjoy them for your Thanksgiving meal,  Christmas dinner, or seasonal celebration.
This wine list describes the nuances and flavor characteristics of each wine, along with the general price for a 750 milliliter bottle. Most of these wineries have long-standing reputations of excellence and their wine is available in most areas.
The vintages suggested below are mostly 2008 (ideal for this article written in autumn 2010). Should you wish to impress the wine connoisseur at your table with a superior vintage, I suggest that you start with the wineries listed below. Inquire at your local wine shop or do a little research on line to distinguish which vintage years are considered exceptional.
After browsing the list, please see my menu A Toasty Thanksgiving Dinner which includes table decorating ideas and delicious recipes like a Grand Marnier Turkey, Irish Cream Pumpkin Pie, and my famous Rum & Cherry Cornbread Stuffing.
From $10 to $20
2008 Beringer Third Century, Central Coast $10
I was introduced to this budget beauty not too long ago, and was amazed by the quality for the price. The tropical aromas and flavors with hints of green apples and juicy pears delight the palate while balanced acidity and hints of oak deliver a smooth, satisfying finish.
2008 Clos du Bois Chardonnay Sonoma County $12

One of the very best values to be had and always consistent! I love this wine with its oaky tones and overall ease. It's often discounted in stores, when the taste suggests a higher price.
2008 Husch Chardonnay Mendocino $12
Another very reliable wine, that starts with apples, peaches, and a touch of minerals, and finishes both elegant and smooth.
2008 Robert Mondavi Private Selection Chardonnay $12
This treasure has much of the toasty, creamy, buttery notes found in wine over $20. A real quality deal when under $10.
2008 Sterling Vineyards Vintner's Collection Chardonnay Central Coast $12
The winemaking talents of the legendary Sterling Vineyards shine through in this golden, fruity Chardonnay.
2008 St. Francis Chardonnay Sonoma County $13
Rich with notes of citrus, melon and vanilla, this Chardonnay is a fresh expression of the handpicked classic varietal.
2008 Acacia Vineyard Chardonnay Carneros $18
The vibrant aromas of this wine combine sweet crème brûlée with ginger, lemon curd, fennel and peach. The finish is long with vanilla, roasted oats and nectarine flavors.
2008 Franciscan Oakville Estate Chardonnay Napa Valley $18
One of my favorite "chill after a day of writing" wines, this Chardonnay is lively and creamy on the palate with a great body and structure. You'll taste notes of honey, lemon tart, green apple and pears that linger with a subtle vanilla tone.
2008 Raymond Napa Valley Reserve Chardonnay $20
An aromatic opening of citrus, green apple, and fresh florals is followed by a long, smooth, finish of vanilla and almond with notes of tropical fruit in every glass of this golden beauty.
2008 Au Bon Climat Chardonnay Santa Barbara County $20
This highly rated (91 points from Wine Spectator) popular Chardonnay is elegant, fresh, and food friendly. Expect nuances of citrus and stone fruit, with smooth, integrated flavors of apricot, apple, and lemon. You'll enjoy a beautiful finish with every sip.
Over $20
2008 Cuvaison Estate Wines Chardonnay Carneros $22
Creamy, silky notes grace this Chardonnay with elements of toasty oak, roasted nut, spice  and citrus to balance it out.
2008 Clos Du Val Chardonnay Carneros $22
Light gold in color this Chardonnay exhibits aromas of pear and pineapple balanced with notes of bread crust and some smoke. Its clean tropical fruit, citrus and green apple flavors are prominent on the palate with a crisp clean finish.
2008 Clos Pegase  Mitsukos Vineyard Chardonnay Carneros $24
Luscious hints of nectarine, peach and a lemon-lime splash, are balanced by rich, toasted French oak. Expect a lovely, long finish from this Chardonnay. A great match for Thanksgiving dinner!
2006 Sonoma-Cutrer Chardonnay Sonoma County $25
I adore this Chardonnay — so incredibly smooth and idyllic to what I imagine a perfect blend to be. It's toasty with oak and coconut, fruity with apples, pears and pineapple, and just plain delicious with notes of caramel, cedar and so much more. This is my go to dinner party wine and most likely the golden lovely I'll be serving for at least one holiday meal.
2009 Rombauer Vineyards Chardonnay Carneros $30
Fat, rich, and buttery this full-bodied wine marries peach, apple, and mango aromas and with classic California Chardonnay flavors. The creamy texture of Asian pears and peaches glides across the palate and the light oak tones highlight the wine's complex and lingering finish. My brother, who lives right on Main St. on Napa Valley, always uncorks a bottle of Rombauer at Thanksgiving.
2006 Trefethen Estate Chardonnay Napa Valley $30
Ripe, yellow apple, peach, honeyed citrus and light butter scents, with intriguing hints of anise and tarragon are enjoyed in every glass. On the beautifully structured palate, its bright apple, lemon and pineapple flavors boast a refreshing minerality that persists throughout the wine's long, clean finish.
2008 Cakebread Cellars Chardonnay Napa Valley $40
This absolutely excellent wine never disappoints with its nuances of citrus, green apples, and ripe pears within an oaky, silk milieu. Cakebread's Chardonnay is light straw color, with a glint of gold in every glass and that delicious blend of butter and vanilla, which makes it an excellent choice for holiday meals. One of the finest wineries in the Napa Valley, Cakebread is a personal favorite.
2008 Grgich Hills Cellars Chardonnay Napa Valley $40
A king crafter of Chardonnay, this Napa Valley gem has created a lovely white wine with aromas of baked pear, lychee nuts, and wild honey. Its liveliness in acidity and a balance of oak and body promises a perfect pair for most any entrée.
2008 Chalk Hill Chardonnay Sonoma County $40
This wine boasts intense aromas of citrus, pear, and honeysuckle. A richness and elegance is evidenced by the wine's crisp flavors of tropical fruit and mineral characteristics of the estate.
2008 Far Niente Estate Bottled Chardonnay Napa Valley $50
Ripe melon and fig, layered with spice, stone and earth, emerge in the nose and combine with notes of hazelnuts and toasted almonds. The wine's smooth, rich entry opens on the palate to tropical notes ending in a long, toasty finish
A version of this article was originally written by Jeanne Benedict as the Contributing Editor and Lifestyle Party Expert for Celebrations.com.