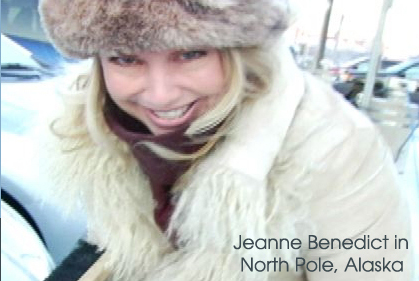 No matter watcha got cookin' politically, there's no denying that "Sarah Palin's Alaska," which premieres on Sunday, November 14 at 9pm ET/8pm CT on TLC will bring the beauty and culture of the nation's last frontier into the homes of millions. Last December, I visited Alaska and made a humorous little video about my adventure where I almost electrocuted myself trying to unplug the car from these electrical posts that keep the engine from freezing (see the video).
My trip also opened my eyes to stunning sights like trees that resembled frozen glass and a much more sophisticated attitude about life than my pedestrian preconceived notions of the state's inhabitants. So, you betcha, I'm gonna watch while hosting an Alaska Theme Party that features Smoked Salmon Wrapped Ovaline Mozzarella, Caviar-Topped Triple Layer Cheese Torte, Baked Alaska Mint Chocolate Cupcakes, and a selection of wine from a Pacific Northwest winery, Chateau Ste. Michelle – the perfect menu for this post-cocktail hour event that celebrates the pristine state of Alaska.    
OK. So, I thought the people in Alaska were going to be a bunch of loggers and left-overs from working on the pipeline in the 1970s. Yep, I was snow-blind. Admittedly and apologetically, my totally cynical perception of those living in this civilization where darkness and light negotiate on a monthly basis and mainland folk journey to cruise amidst the bergs as part of their "bucket list" was way off. It's a real decision to live in Alaska. You really need to think about life and survival in extreme conditions on a daily basis given that the environment could potentially be life threatening. When you tell people that you visited Alaska, most seem to ask, "Was it dark all the time?" No one really knows what it is like and few really care, except for the fact that a political high beam illuminated the state in the last presidential election. But apparently, "Sarah Palin's Alaska" isn't going to be about politics. Good. Good for the state of Alaska and good for me because it provides the perfect opportunity for a theme party!
 Alaska Theme Party Decor
 Since this is a premiere party where the main activity is watching TV, you don't need to go all out creating titanic icebergs in the middle of your living room. But the suggestion of snow on the doorstep would be an easy thematic touch along with these simple ideas.
 Snowy Stoop – Sprinkle a little faux snow on your doorstep to welcome guests. Snow in Seconds is a great product where you sprinkle water on these granules, and voila, snow erupts in seconds. It's non-toxic and a very cool product.  
 Welcome to Alaska Sign – Create a "Welcome to Alaska" sign and put it on your front door.
 Evergreen Accents and Pillar Candles – Holiday décor is already available at most craft stores like Michael's. Pick up some small artificial evergreen sprigs to accent the base of a pillar candle on a base plate. Simply lay the sprig on the plate or create a wreath around the base of the candle. Or crack open your boxes of holiday decorations and see what will work with the theme.
 Alaska Theme Party Menu
When most people think of Alaskan cuisine, fish comes to mind such as this menu offers with wine from Chateau Ste. Michelle located in Washington State. I selected this Pacific Northwest winery, the oldest in the region, because those en route to Alaska typically travel through Seattle and Chateau Ste. Michelle is widely available in most areas. Place small platters of food on the coffee table in your living room or a nearby buffet for guests to nibble on as they watch "Sarah Palin's Alaska."
 *Note: The Caviar-Topped Triple Layer Cheese Torte is one of my favorite appetizer recipes left over from my catering days so it serves 100. Half the recipe ingredients (or scale it down to a smaller party) and prepare it in a 6 or 8-inch spring-form pan for smaller parties. I've even skipped the spring-form pan and made it with a foil collar! As Julia Child's instructed on many a recipe "by your own methods." Whatever works!