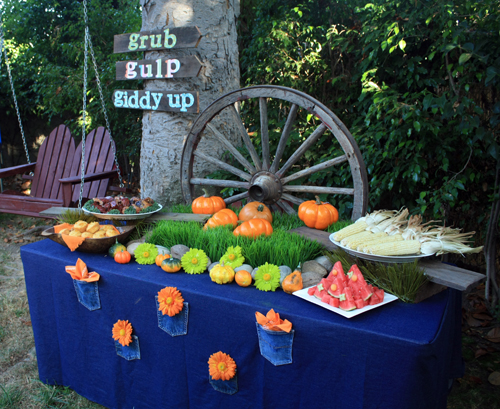 I've always felt like the fall harvest and a hoe down go hand in hand making them the perfect match for a party. This classic country fete is decked out with haybales, picket fence signs, wagon wheels, pumpkins, and a cute little puppy with a kerchief! On the menu is delicious BBQ fare with a twist such as homemade Beer BBQ Sauce on Ribs and Caramel Corn-Topped Corn Muffins. Whether you're hosting a Halloween party with this theme or an autumn gathering this Harvest Hoe Down has some great ideas from food to decor for your to chow down, chill on haybale, and catch up with good friends.
Picket Fence Sign
Guests always feel welcomed when a big ol' sign spells out the party. For me, it's almost a continuation of the invitation and punctuates the "you have arrived!" vibe of any get together.
This picket fence sign was made from scrap wood that I had in my back yard, and I cut out the letters using the greatest machine known to (wo)man since "the flying machine," the Cricut. You can aquaint yourself with the Cricut on line or at most craft stores like Michaels, which is were I bought the paper or the letters.
I used compatible colored paper for the letters in different patterns ( a matching process that often takes me about 30 minutes envisioning paper pair-ups in front of the miles of scrapbook paper at the store). The mis-matched paper gives the sign a calico quilt motif, which is a perfect scene-setter for a party like this!
Of course, it helps that I have a big magnolia tree in my yard to post a sign such as this. Be creative! You can post this sign on a fence or even create it out of brown poster board with the letters and use glue dots to stick it on a wall.
Cowgirl & Carousel Horse
I just happen to own a carousel horse which travels from various spots in my yard and is a favorite plaything for my kids and their friends.
Our horse is currently painted yellow and may look familiar to those who watch America's Next Top Model. My husband, John Sparano, is a set decorator for the TV show and placed the horse in a pool for season 13 (2009).
Now, the painted pony is a happy prop in my yard, perfect for parties and as a backdrop for little cowgirls with mason jars of lemonade!
Denim Tablecloth and Placemats with Pockets Full of Autumn Accents
I made the denim tablecloth (pictured above) and used hot glue to attach pockets on the front.
Shopping in thrift stores is a hobby of mine and where I found inexpensive jeans with the back pockets that I used for the cloths. Some craft stores actually sell pockets as well.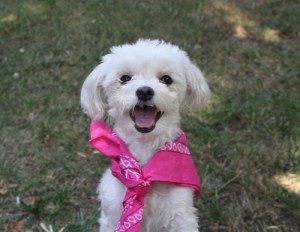 The place mats are made from the thigh portions of old jeans! (Yep, the same ones that I stole the pockets from.) It's a very recycle happy hoe down!
For the table decor, an old wagon wheel really set the scene and the orange silk daisies worked great with the pumpkins on faux wheat grass.
I picked up a bunch of orange bandanas at Michaels Arts and Crafts as well to use as napkins and really punch up the pumpkin color.
And, my dog Fred looks smashing in a pink banadana!
I wanted to carry out the theme in everything, personalizing each detail so every where guests looked, there was something to yak about.
BBQ Buffet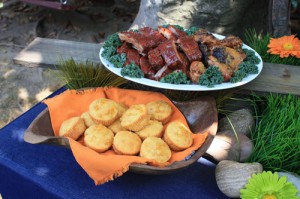 Try these recipes and menu ideas for a yee-haw good time!
Beer BBQ Sauce for Baby Back Ribs
Caramel Corn-Topped Corn Muffins