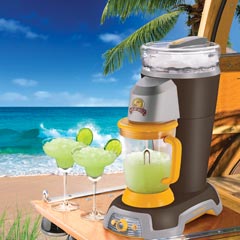 Great gear and grub is the winning combo for the ultimate tailgate party.  Check out these Hot Tailgating Products that I shared with TODAY Show hosts Kathie Lee and Hoda, which are sure to score big at your gridiron get together. And, here's the video clip of my appearance that brings these products to life on the TODAY Show!
Flings Bins: Pop-Up Recycling and NFL Licensed Trash Bins
This brand new product, Flings Bins, is ideal for responsible and stylish tailgating. These are pop-up trash and recycling bins that come packaged flat, which is a great space saver in the car for any party-on-the-go like a tailgate!  When you get to the party site, you just pop open the bin and it stands on its own. The cool thing about the recycling bin is that is holds up to 60 cans and keeping just 1 can from a landfill will save enough enegry to power a TV for 3 hours!  Flings Bins are strong, leak-proof, and come in a variety of designs including officially licensed NFL and college team bins along with some great party and holiday themes. (I love their Halloween Party design!)
Flings Bins are available for $3-$4 for the regular bins and the logo'd bins are a little more. Find out where to get them at Flings Bins or check them out on Facebook/FlingsBins.
Margaritaville® Explorer™ Cordless Frozen Concoction Maker™
From the brand that has a patent on paradise, the Margaritaville Explorer Cordless Frozen Concoction Maker is perfect for tailgating.  This machine actually shaves the ice during the blending process making restaurant quality frozen drinks. Plus, you can make up to 60 drinks on a single 18-volt Ni-Cd battery charge.  I also like the premium graphite finish with mango-colored accents and oversized controls (read as easy to operate after a few cocktails).  But, you can't beat the cordless feature for a tailgate – truly brilliant like Jimmy Buffet.
You'll find this maker of fab frozen deliciousness at Margaritaville Cargo for $299 and check local retailers as well!
Weber® Q® 120 Gas Grill 
From the king of grills, the Weber® Q® 120 Gas Grill is top-notch for tailgating given its excellent portable design. My favorite features on this grill are the push-button ignition, infinite adjustable burner valve, porcelain-enameled cast-iron cooking grate with a nice size surface, and the fold-out side tables along with handles to carry the grill. It uses a little disposable propane gas cylinder and it's the total way to go for tailgating.
This grill is $189 and you can check Weber's website to find a grill that fits your budget and style.
Tailgating Party Supplies
Gear up for your tailgate with these super affordable party supplies like:
$10.62 – Football field vinyl tablecloth, durable and reusable, great for tailgating and the Super Bowl!
@$3.50 – NFL theme paper plates and napkins.
$9.62 – Trio of connected football bowls with goal post center for chips, dip, and M&Ms on the TODAY Show.
$1.60 – Tailgate Zone Party Tape.
You'll find a whole lot more at my party store Jeanne.MakesParties.com.
Magnetic Coozies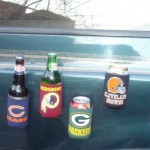 The cool thing about these coozies is that they are magnetic and are available with a variety of NFL and NCAA logos. So you can have your full can of beer, visit a tailgating friend, and park your coozie on the side of his car or any metal surface.
Available for $28.80 for a 4-pack from American Tailgater.
Ring Bottle Opener


Be the life of the party with the bottle opener you wear! No more forcing open bottle tops with lighters or on the side of a table, just slip the ring on your middle finger, hook the ring on the bottle top and lift your wrist…Pssssshhhh. The bottle opens with ease!.
Available for $9.95 from American Tailgater.
Personalized M&Ms with New York Giants Logos and Colors 
Been to M&Ms World in Times Square? It's pretty awesome and so are these personalized candies that you can get on line at MyMMs.com.  You can personalize M&Ms very easily and on line for a party or sports event like these red, white, and blue versions of America's favorite candy with the New York Giants design and colors for a tailgate at home or Giants Stadium.
A 7 oz. bag of personalized M&Ms is about $11 and you'll find a huge sweet world of options at MyMMs.com.
New York Giants 3-Way Popcorn Tins 
Another awesome food product that brings in the New York Giants team spirit as well as other NFL teams are these 3 gallon popcorn tins with 3 flavors of fresh-popped corn: all-natural butter, robust cheese, and secret-recipe caramel – plus the tins completely dress up the table. Snack in sporty style!
These tins are $34.99 from The Popcorn Factory.     
Play-ble™ Multi-functional Cornhole Boards & Tailgating Tables Set
This is super fun, it's a Play-ble table(s) that's multi-functional and can be a bean bag toss tailgating game as well as a party table! There are 2 tables in each set along with the gaming items and accessories. You can set the tables on the ground for the game or upright as 2 (2'X4′) tables that connect and you have the option of putting collapsible cups in the holes to hold utensils or snacks or covering them with matching caps for a flat suface.
The whole set is $169.99 from Tailgating Fanatic where you can see all the possibilities that this table set offers.
Tub Cooler

For those who love a cold one at their tailgate and don't like to bend down to get it, this Tub Cooler holds over 72 cans or beverages along with ice and sets up on a stand and folds down in seconds to fit into a small travel bag.
The Tub Cooler is available for around $40 at Picnic Fun.
All in One Chair

It's a chair, cooler, and tote system all in one – load up your tailgating gear for easy transport and then park yourself in the chair!
The price is $49.95 and is available at American Tailgater.
Spectator Bench 
This fold-out bench is a great seating option for your party as an extra place to chill for a crowd.
I believe it has a special price of right now (Sept. 2010) of about $25 from Picnic Fun.