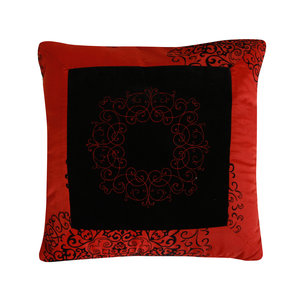 I am beyond excited about my upcoming New Year Party with a Chinese Modern theme! I've partnered Walmart and Sam's Club for this new year event and after browsing through both stores during the party planning stage, I've discovered some amazing products with incredibly low prices that are going to give this themed Chinese New Year party a unique personality and ambience that my guests will remember forever! Best of all, this versatile theme can be used for your 2011 New Years Eve events or a Chinese New Year party on January 23, 2012.   
Check out the actual party photos of my Chinese Modern New Year Party inspired by these products: Click Here!
Walmart's home decor department has gorgeous red and black throw pillows with an amaryllis design for around $12.88 (pictured above) that I plan on using to accent rented Chinese Modern couches. I've been a big fan of the Walmart's "do-it-yourself" section for years, especially their fabric and craft department, so I'll be able to embellish upon the red and black Chinese motif with my own personal handmade touch.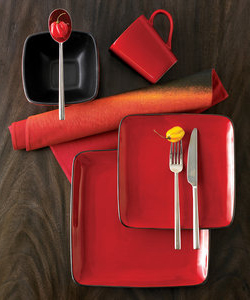 This fabulous brand, Hometrends, has red and black square plates, bowls, and platters that I'll use decoratively in an arrangement with fresh red or white roses, also available at Walmart along with a variety of beautiful florals near the fresh produce and grocery department. The produce department at the Walmart Supercenter I visited had lush red pomegranates that will surely make their way on to the food table and the selection of vegetables will be great for a crudite', such as my Christmas Tree Shaped Crudite, or maybe a stir fry.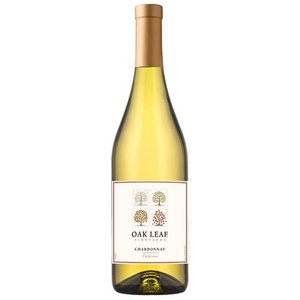 But, a real standout that you may have seen me talk about in my holiday party segment on TV's Fox and Friends is Oak Leaf wine available only at Walmart for under $3.00 a bottle (and under $2 a bottle in California)! Oak Leaf offers 8 varietals and my favorites are the Merlot and the Chardonnay. This is an award-winning wine, perfect for a party with great taste at a great price. You'll find the wine near the grocery department, which is super convenient as I'll be able to get a lot of my food and party supplies in one place.
Sam's Club is the absolute place to go to take your home party to a pro level. The prepared desserts and frozen appetizers are the best I've seen. Seriously.
First of all, I have two words for you: Cheesecake Factory! The selection of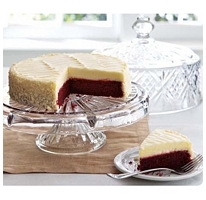 Cheesecake Factory cheesecakes will make your mouth water. I think I'm going to get the red velvet cheesecake as the color is perfect for my Chinese theme and I know the taste is going to be out of this world.  
Another must-have that will make my prep super simple are the Daily Chef brand food items, specifically their frozen appetizers. Being a cookbook author and a chef, I always spend way too much time in the kitchen before and during my parties.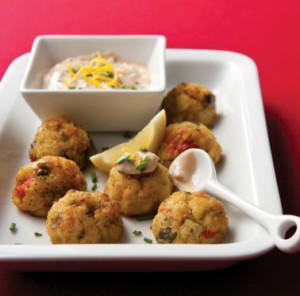 When I saw the Daily Chef Mini Crab Cakes and their Bacon Wrapped Shrimp, I actually felt relieved that I'd be able to give my guests delicious appetizers with little effort and a lot of elegance. (Did I mention that we are expecting 100+ people?)
I have been in the market for a couple of chafing dishes and Sam's Club has a great selection both round and oblong that I'm looking forward to buying for my entertaining essentials. But, I am over the moon about these 32" round bar height event tables that are $29.88. Incredible! My plan is to put a couple of these tables in the bar off the main tented area and then pick up some sleek design portable heaters, also available at Sam's Club to keep guests toasty and filled with the holiday spirit!
My fabulous husband, John Sparano, is a set decorator for the TV show, America's Next Top Model, and the next big hit, Fashion Star, and his friends at Omega Cinema Props, the biggest Hollywood prop rental house in the world will be providing the couches and Chinese décor to bring this party over the top especially when combined with these stylish and sophisticated products from Walmart and Sam's Club.
Click here to see the actual Chinese Modern New Year Party Photos!