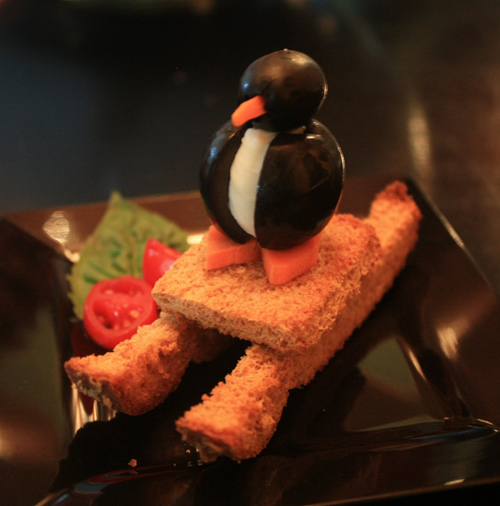 I am absolutely in love with this cocktail party theme: Pinecones and Penguins! I am working with Mrs. Cubbison's, who makes the most delicious cornbread stuffing mix, this holiday season, and I created this tabletop for an upcoming ABC Eye on LA TV segment (see the video!). Here are some photos from the shoot to serve as inspiration for Thanksgiving and your holiday cocktail parties. And, here is a Painted Pinecone Montage that includes photos of the pinecone decorations as seen in my living room on TV!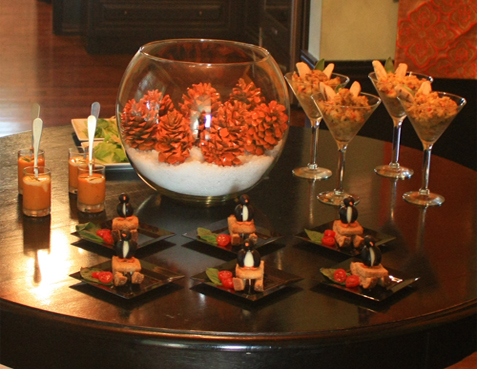 Penguin Olive on Bread Sled How-To
1. For the penguin's body, cut a slit into the side of pitted jumbo olive and stuff with a small salted mozzarella ball or cream cheese.
2. Place a pitted small olive on its side on top of the body for the penguin's head. Stick a toothpick down into the head and through the body to keep him together.
3. Slice a peeled carrot into thin rounds and cut a wedge out of some carrots for the penguin's feet. Place the penguin body on the feet and push the toothpick down to keep it all together.
4. Cut carrot slivers for his beak. Insert the beak into the X on the olive head (the X is the opening where the pit was removed).
5. For the bread sled, toast wheat bread. Cut the crusts off the sides first so you have rounded tips for the sled's runners. Cut the toast into a sled shape. Use cream cheese to adhere the runners to the sled.
6. Place the penguin on the sled and push the toothpick down further so it goes into the sled and is not visible on top of the penguin's head.