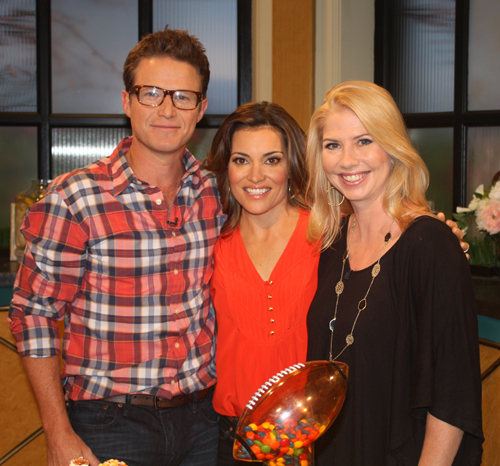 My first segment on Access Hollywood Live with the fabulous Billy and Kit! "Home-gating" (throwing a football-watching tailgating party – at home!) is a growing trend.  I shared some ideas for a gridiron get-together featuring desserts & cocktails with a serious  "kick" to watch NBC's NFL Football Special and favorite teams play throughout the season.
Here are a couple of the recipes:
Cocoa Rice Crispy Treat Football (click here for recipe)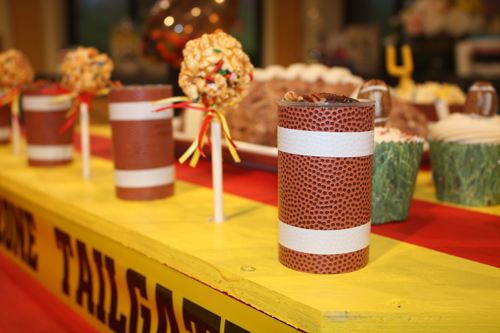 Mini Popcorn Ball Spirit Sticks by Jeanne Benedict
6 cups popped popcorn
1 cup caramel candy (about 25 pieces)
1 tablespoon margarine
1 tablespoon water
Lollipop sticks or cookie batons
Place popcorn in a large bowl. Heat caramels, margarine, and water in the microwave in 30 second increments until melted; stir until smooth. Toss into popcorn and stir until coated. Form golf ball size balls and insert a lollipop into the ball. Decorate with thin ribbon or paper fringe around the stick just beneath the ball.
Makes about 20 – 24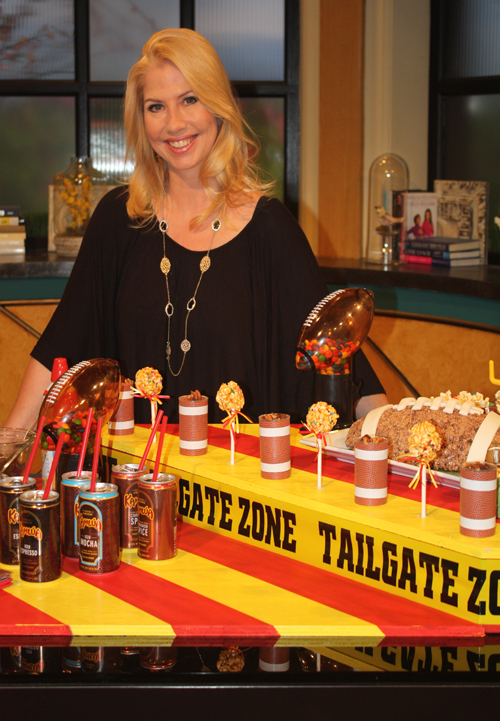 Football Wrapped Turtle Brownie Push Pops by Jeanne Benedict
For each push pop layer into mold:
1- 2 tablespoons brownies, cut into 1-inch cubes
2 teaspoons caramel topping
2 teaspoons chopped pecans
To give your push pop mold a football look: wrap mold with football themed paper; secure with double-stick tape. Finish it off with white tape around the top and bottom of the mold to resemble a football!