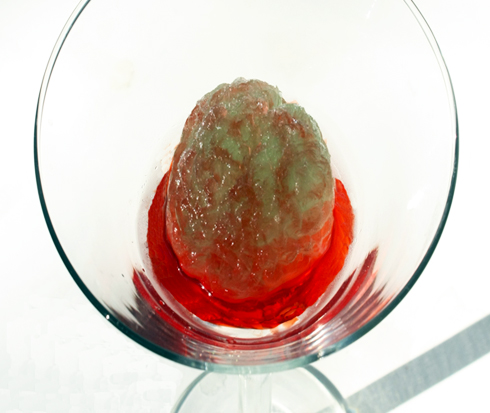 I just love Halloween food and drink with all its gory possibilities. This killer chiller brain freeze dessert that I shared on my Halloween Today Show appearance with Hoda and Kathy Lee is made with Appletini cocktail ingredients. Pucker Up!
1 cup water
1/3 cup simple syrup (recipe below)
2 teaspoons Pucker Sour Apple Schnapps
1 teaspoon vodka
2 tablespoons lime juice
1 drop green food coloring
Candy Blood (from Party City)
Mix together water, simple syrup, liquor, and lime juice. Pour into a food-safe Silicone mold and freeze until solid. Add coarsely crushed ice topped into the bottom of a Martini glass. (Optional: spoon a layer of red Jello on top to resemble blood and help keep the brain cool and level in the glass.) Dab Candy Blood on to Appletini Brain Freeze to bring out the veins and serve chilled!
Simple Syrup Recipe
1 cup granulated sugar
1 cup water
Add sugar and water into a small saucepan and cook over medium-high heat until mixture boils and sugar dissolves; about 5-8 minutes. Cool completely and transfer to a bowl. Cover and refrigerate until ready to use.