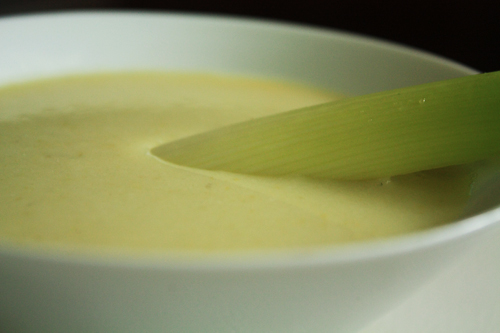 Only a few cold soups appeal to me and they are the classics Vichyssoise and Gazpacho. Artichokes brighten up this creamy potato and leek soup making this potage an excellent choice for a hot day.
3 cups coarsely chopped Yukon Gold potatoes, washed, peeled
1 (8 1/2 oz.) can artichoke bottoms, drained, chopped
2 leeks, rinsed, coarsely chopped, plus cut leek spears for garnish
5 cups chicken broth
1 cup half and half
2 teaspoons salt
1/2 teaspoon white pepper
4 teaspoons fresh lemon juice
Combine potatoes, artichokes, leeks, and broth in a pot over medium-high heat. Bring to a boil and reduce heat to medium-low and simmer for 25 minutes or until potatoes are tender.
Add vegetables and liquid in batches into a blender jar and puree until smooth. Pour pureed mixture into a large bowl or pitcher, and stir in half and half, lemon juice, salt, and pepper. Cool completely and refrigerate covered until ready to serve.
Just before serving, pour soup into individual bowls and garnish with a leek spear. Serve cold.
Makes about 4 to 6 servings