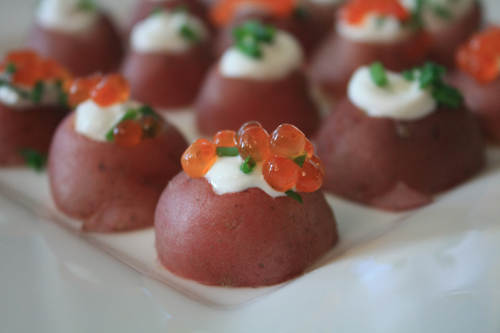 One of the easiest and most elegant recipes, this classic appetizer of baby red potatoes topped with sour cream and caviar is a great go-to for dinner parties. Top half with the caviar and the remainder with chopped chives for those who prefer the potatoes sans the salty little sea gems.
12 baby red potatoes (about the size of a golf ball)
1 cup sour cream
4 oz. caviar or lumpfish roe
1/4 cup minced chives
Place potatoes into a pot and fill with water plus 1 teaspoon salt until potatoes are immersed. Bring to a boil over medium-high heat and cook until potatoes are fork tender, about 15 to 20 minutes. Drain and cool potatoes.
Cut potatoes in half crosswise, and place cut side down on a baking sheet or serving platter. Cut a 1/2-inch circle about 1/4-inch deep in the top of each potato and fill with a dab of sour cream. (I like to put the sour cream in a plastic sandwich bag, snip a corner off the bag, and use it to pipe the sour cream on the potatoes.) Top with caviar and minced chives or a topping of your choice and serve cold.
Makes 24 appetizers
Note: You can cook the potatoes a few hours ahead of time, cut them in half, cut the circle in the top, and put them on a baking sheet. Cover with plastic wrap and refrigerate until just before serving, whereupon you can top with the sour cream, caviar, and chives.