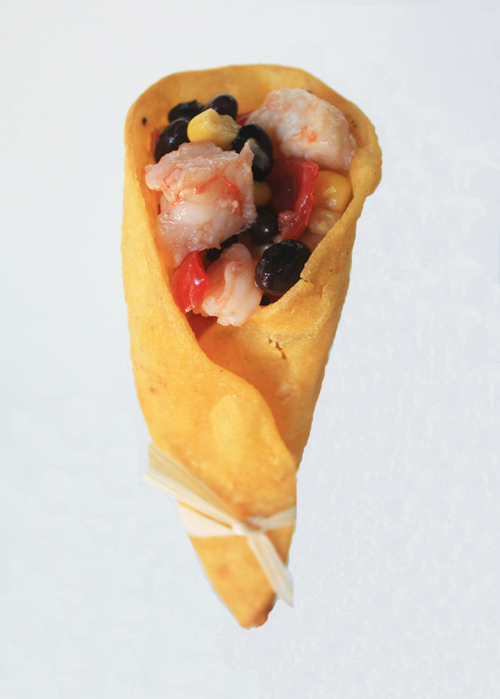 I've been experimenting with various edible containers for appetizers using wontons, papadum, and tortillas! The tortilla cones were definitely the most challenging to work with because I had to hold the cone shape together while immersing it in hot oil. The Baja shrimp blend is delicious, but the cones take some time and effort to make. The presentation is will garner raves from your guests!
1/2 lbs. raw medium shrimp, shelled & deveined
Vegetable oil
1/2 teaspoon minced garlic
1 cup canned black beans (rinsed & drained)
1 cup canned corn kernels (drained)
Juice of 1 lime
1/2 teaspoon of adobo sauce*
1 teaspoon salt
12 yellow corn tortillas
Dried cornhusk (generally used for tamales)
Heat 1 tablespoon of oil and garlic in a skillet over medium-high for a minute and add shrimp. Saute shrimp until it is cooked (turns from grayish-blue to pinkish-white). Remove from heat and chop shrimp into 1/2-inch bits. Mix together shrimp, black beans, corn, lime juice, adobo sauce, and salt until combined. Cover and refrigerate until ready to serve.
Place tortillas on a plate and cover with a damp paper towel. Microwave tortillas for about 30 seconds to soften them otherwise they make crack when you roll them into a cone. Roll each tortilla into a cone shape and tie a strip of cornhusk around the middle to keep them closed. (It may be necessary to soak the cornhusk strip in hot water for a few seconds to soften them too.) Pat the cones and strips dry to prevent splatter when they go into the oil.
Fill a pot halfway with oil and heat on medium-high. Drop a piece of tortilla into the oil and if it floats to the top and sizzles it is ready! Put on an oven mitt. Using long metal tongs, clamp the cone by placing one tong arm inside the cone and the other arm outside the cone. Turn heat to medium and carefully immerse the cone into the oil while holding it with the tongs. After about 10 seconds the tortilla should be crisp enough to hold its shape and you can release the cone from the tongs. Fry the cone for about 30 seconds until it turns golden yellow. Use the tongs to remove the cone, carefully pouring out any oil back into the pot that may be in the cone. Set cone on a paper towel to drain of excess oil. Fry remaining tortilla cones and sprinkle with coarse salt to season them. These cones are best when made the morning or day of the party.
Just before serving, fill cones with shrimp mixture. Serve upright by inserting the cones into a glass cube vase or nice container of rock salt or uncooked rice. Or purchase cone holders made to serve appetizers such as these!
Makes about 12 cones