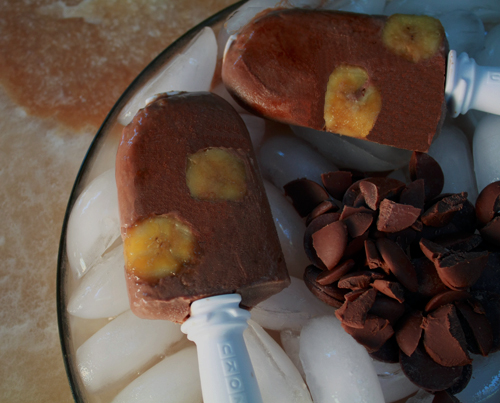 This recipe was one I wanted to create for my recent Today Show appearance, but it didn't make it on the show. It is one of my favorites as the rummy, caramel sauce from the Bananas Foster is mixed into the fudge and it's just scrumptious.
1 tablespoon butter
1/4 cup golden brown sugar
2 tablespoons dark rum
1 banana, sliced into 1/4-inch thick rounds
3/4 cup milk
6 tablespoons hot fudge topping (I used Smuckers)
Zoku Quick Pop Maker (3 pop model)
Freeze Zoku Quick Pop Maker in the freezer overnight and read manufacturer's instructions completely.
Melt butter over medium heat in a small saute' pan. Add bananas and saute' for 1 minute, then add sugar; gently stir to coat. Add rum and cook for 30 seconds more. Remove from heat and spoon 2 tablespoons of caramel sauce into a small mixing bowl. Transfer bananas to a sheet of wax paper to cool.
Warm milk in the microwave for about 10 seconds and add to caramel in bowl. Stir in fudge topping until incorporated. (Mixture should be cool enough to freeze, but if it is warm, place it in the refrigerator for a bit.) Transfer mixture to a large measuring cup with a pour spout,
Take Zoku pop maker out of freezer. Place a couple of banana rounds against each inside wall of the Zoku cavities using the plastic pop stick to help press them in place. Insert pop sticks in place and pour fudge mixture to fill line. Allow mixture to freeze. (I usually put pop maker back into freezer to speed things up.)
I've found that these pops melt the second they come out of the maker, and that they last longer when they have had some time to "ripen," which means to freeze longer outside of their mold or machine. Ice cream making is a process of "conversion," turning a custard batter into ice cream, and then "ripening," freezing it for a couple more hours. So, be prepared when the fudgesicles come out of the maker with some plastic sandwich bags. Put the pops into the bags and right back into the freezer on a plastic or paper plate. Repeat the process to make 3 more Bananas Foster Fudgesicles and enjoy!
Makes 6 Cocktail Pops