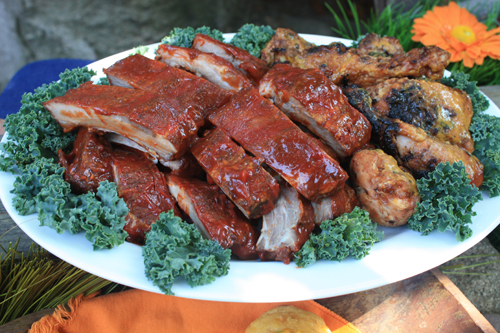 I've made this Beer BBQ sauce on many a TV show, mostly male-oriented talk shows.  One segment theme was "Cooking with Beer," and there I was with 4 guys and a bevy of models on a fake patio in the studio. This tangy Beer Barbecue Sauce got their eye on the grill and off of the ladies. This recipe is featured in Harvest Hoe Down Party.
Baby Back Ribs
20 lbs. baby back pork loin spareribs
Guinness Stout
Water
Beer Barbecue Sauce
2 cups Guinness Stout
6 tablespoons brown sugar
2 teaspoons salt
2 teaspoons pepper
2 tablespoons chili powder
2 cloves garlic, minced
1/2 cup Worcestershire sauce
4 cups ketchup
2 teaspoons liquid smoke
Place ribs in a large stockpot. Add 1 part Guinness to 2 parts water into the pot until the ribs are covered in liquid. Parboil ribs by bringing liquid to a boil over high heat. Then, reduce heat to low, cover, and, simmer for 1 hour. Remove ribs from pot and drain liquid.
To make barbecue sauce: Combine ingredients in a large pot. Bring to boil over medium-high heat. Reduce heat and simmer for 20 minutes, stirring occasionally, until sauce thickens. Allow to cool to room temperature for flavors to blend.
Heat gas barbecue according to manufacturer's instructions for low heat OR follow instructions on charcoal bag for low coals. Set grill about 6 inches above coals and place parboiled ribs on grill. Brush sauce over ribs and grill, turning ribs over and basting ribs with sauce every 10 minutes, until done, about 20 minutes. Ribs will be done when the meat separates from the bone about 1/2 inch and rib backing often cracks. Place racks on a serving platter or cut ribs in between bones for individual portions and serve.
Makes 20 servings