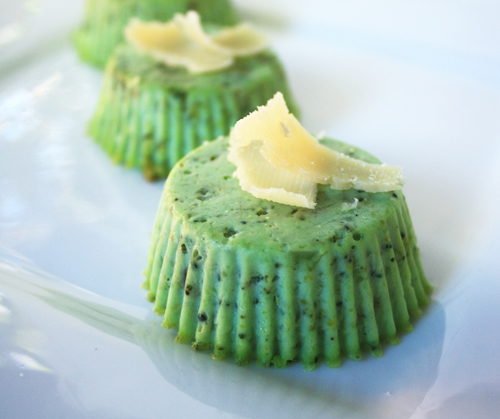 "Drinking cup" is the English translation of the French word "timbale". Traditional dessert timbales are simply brioche pastry cups filled with a fruity mixture. This version of the timbale, a cup-shaped custard with minced vegetables, is a lovely side dish for elegant meals. This recipe allows for about 12 timbales as guests rarely enjoy just one.
1/4 cup butter
1 large brown onion, minced
3 cups cooked broccoli, finely chopped
1 cup freshly grated Parmesan cheese, plus Parmesan shavings for garnish
1 teaspoon salt
1/2 teaspoon pepper
3/4 cups heavy cream
6 large eggs
Melt butter in a large skillet over medium-high heat. Add onions and cook, stirring occasionally, until translucent, about 3 – 5 minutes. Add onions to broccoli in a bowl, and stir until combined. Stir in cheese, salt, and pepper.
Preheat oven to 325F (165C). Line 12 cups of a muffin pan with foil cups. Spray cups with nonstick cooking spray. Beat cream and eggs in a large bowl until just blended. Pour egg mixture into broccoli, and stir until combined.
Pour mixture into prepared foil cups. Fill a large baking pan halfway with hot water. Set the muffin pan inside the pan of water and place on lower rack of oven. Bake 35-40 minutes or until knife inserted off-center of timbale comes out clean. Remove from heat and cool for 10 minutes.
Remove timbales from muffin pan and gently peel away foil cups. Place upside down on a serving platter or individual plates and garnish with a shaving of Parmesan. Store covered in the refrigerator for up to 2 days.
Makes about 12 timbales
Note
These timbales can be made 1 day in advance and reheated when ready to serve. After timbales have fully cooled, remove them from pan, keeping timbales in their foil cups. Place timbales on a plate, cover with plastic wrap and refrigerate. When ready to serve, gently peel foil cups away from timbales and place upside down on a baking sheet. Warm timbales in a 350F oven for 10 minutes. Or, place timbales upside down on a plate and microwave until warm. Place timbales upside down on serving plate, garnish, and serve.