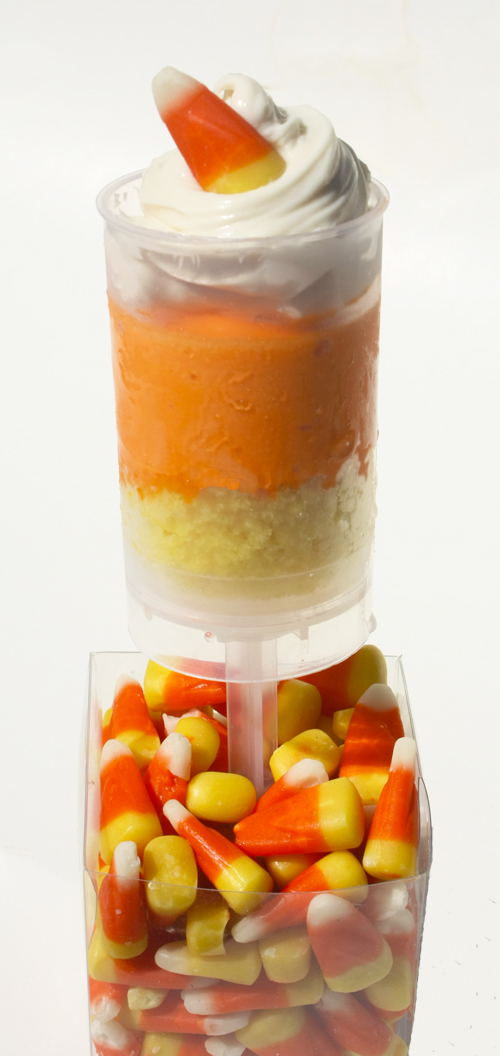 After eating a bag of candy corn (you must understand that thorough experimentation is needed for the perfect recipe), I decided that Baileys, liquid gold, cream of the Gods, was the ideal liqueur for these frozen push pops. This Cocktail Pop concoction is a simple one but with its Halloween candy theme, sure to be a favorite at any fright night feast!
1 (9×13) loaf cake dyed yellow with gel food coloring
3 cups vanilla ice cream
3 tablespoons Baileys Irish Cream Liqueur
Orange gel food coloring
1 container white frosting (not whipped or fluffy)
Candy corn
Push Pop Molds
Crumble yellow cake. Mix together 1 cup cake crumbs with 1 cup vanilla ice cream and 1 tablespoon Baileys until thoroughly combined. Fill push pop molds 1/4 full with mixture and place upright in the freezer for 30 minutes or until solid.
Meanwhile, combine 2 cups vanilla ice cream with 2 tablespoons of Baileys. Add orange gel food coloring until desired color is achieved. (Taste test throughout to make sure you don't go overboard and get that awful food coloring taste.) Remove push pop molds from freezer and add orange ice cream on top of frozen cake layer 3/4 full in mold. (Tip: If the cake isn't frozen the orange ice cream seeps down the sides inside the mold ruining the layered look.) Freeze until solid.
Mix 1 cup frosting with 1 tablespoon Baileys. Dollop on top of orange ice cream and accent with a candy corn. Place back in freezer for about 15 minutes to allow frosting to chill and then serve.
Makes about 12 push pops