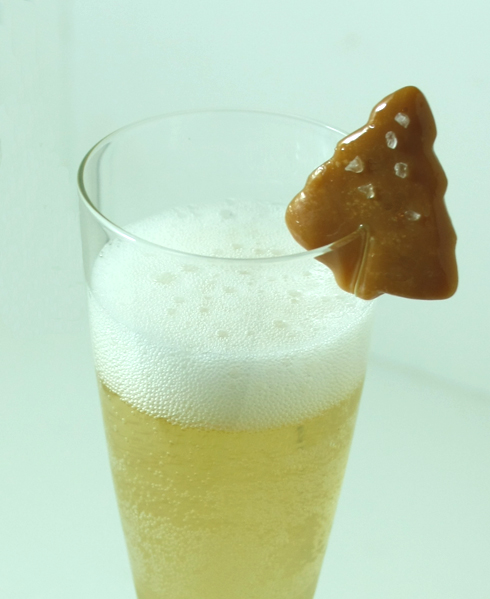 Here's another holiday cocktail idea from the Today Show's Christmas Eve 2014 episode with Kathie Lee and Hoda. I dressed it up a bit for its TV debut – watch the video here!
Caramel-infused cider mixed with some bubbly Brut composes this simple yet elegant cocktail. On the rim of this cocktail's flute is a mini salty caramel Christmas tree.
1 quart apple cider
½ cup caramels, plus caramels for Christmas tree garnish
Coarse salt
Brut Champagne or dry white sparkling wine
Add ½ cup caramels into apple cider; cover and allow to sit overnight. Strain cider and discard caramels. Refrigerate until ready to use.
To make Salty Caramel Christmas Trees: Lightly spray a microwave-safe dinner plate with non-stick cooking spray. Place 4 caramels on plate and microwave for 10 second increments until caramels are soft and pliable. Use your finger to press down each caramel until it spreads to the size of your mini Christmas tree cookie cutter. Spray cutter with non-stick spray and cut out caramels. Lightly sprinkle coarse salt on top of each caramel. Cut a small slit in the bottom of tree. Repeat with remaining caramels. Cover with plastic until ready to use.
When ready to serve drinks, slide caramels on to rims of flute glasses. For each drink, add 1 oz. cider into glass and then fill as desired with Champagne