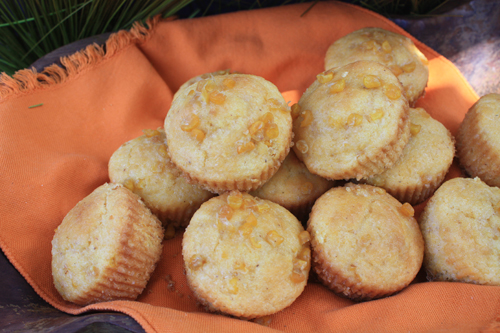 Until I did the Hoe Down epsiode of the show I hosted and designed from food to decor, Weekend Entertaining on the DIY Network, I wasn't aware that cornmeal was very different depending on what part of the U.S.A. you bought it in. In Los Angeles, cornmeal is grainy, and in the South, or rather Knoxville, TN where we shot most of the TV show, cornmeal is a blend of finely ground corn and flour. This recipes builds upon a box mix turning into a carmel topping much like a streusel for a unique take on the corn muffins which seem to be a staple for so many southern bbqs food spreads. The recipe is featured in the Harvest Hoe Down Party menu.
Muffins
8.5 oz. box of Jiffy Corn Muffin Mix
1 egg
1/3 cup milk
1/4 cup cooked corn kernels (canned)
Caramel Corn Topping
2 tablespoons butter, softened
2 tablespoons brown sugar
2 tablespoons cooked corn kernels
The instructions and ingredients for the muffins are basically from the "back of the box" with the exception of the corn added into the mix.
Preheat the oven to 400 F. Pour Jiffy Corn Muffin mix into a large mixing bowl and add egg, milk, and corn kernels until combined but lumpy. Allow batter to rest a few minutes for best "crowning" results. Line a muffin tin with baking cups and fill halfway with batter.
Bake for 15- 20 minutes or until golden brown.
Meanwhile, makes Caramel Corn Topping: Mix together butter, brown sugar, and corn. When muffins are cool, spread about 1 teaspoon topping mixture on each muffin. Heat under a broiler on high heat for 30 seconds or until topping is a bit bubbly.
Remove from heat and transfer into a cloth napkin-lined basket. Place on a bbq buffet and serve warm.
Makes about 12 muffins