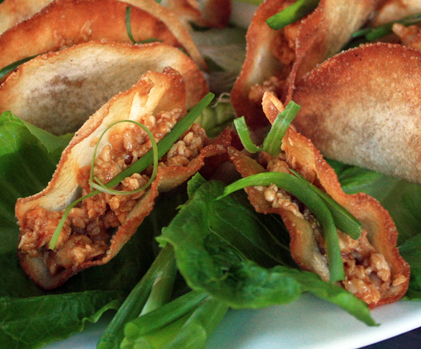 These tacos were a big hit at a recent cocktail party I hosted for my husband and the crew from a TV show he worked on, Fashion Star! (This show is going to be a huge hit – premieres February 2012!) This recipe takes off where minced squab on lettuce cups and mu shu chicken leave off. I fried little round wontons and draped them over a dowel so they formed taco shells. The result is a crunchy, light hors d-oeuvre shell for a tangy, sweet hoisin chicken filling.
1 1/2 lbs. boneless, skinless chicken breast
2 – 3 cups water
1/4 cup seasoned rice wine vinegar
4 tablespoons plum sauce
5 tablespoons hoisin sauce
1/4 teaspoon coarse salt
24 round wonton skins (about 3-inch diameter)
Vegetable oil
Bunch of scallions or green onions
Cover chicken with water and vinegar in a casserole dish and bake for 45 minutes until chicken is fully cooked or poached. Remove chicken into a bowl and shred chicken using a knife and fork. Mix in plum sauce, hoisin sauce, and salt until thoroughly combined. Cover and refrigerate.
Set up your "taco shell making" station before you start cooking. I wrapped 2 (@2-foot long) wooden dowels in aluminum foil. I extended the dowels across the top of a cardboard box and secured the dowels by cutting some slits into the top edge of the box so the dowel ends could slip into the slits. I put paper towels in the bottom of the box to absorb oil drips. It's basically a "clothesline" type of set up where you are going to drape the wontons over the dowels immediately after frying them so they hold their taco shell shape.
Fill a medium-size saucepan halfway with oil and heat on medium-high. Drop a piece of wonton into the oil and if it floats to the top and sizzles it is ready! Turn heat to medium and carefully drop a wonton skin in the oil. Count to 8, use metal tongs to flip the wonton over, and count to 4 until the wontons just turn golden brown. (Your "frying time" count may be different, but this gives you an idea of how quick the wontons cook.) Use the tongs to remove the wonton from the oil and drape it over a dowel so the wonton holds it taco shape. (Notes: Use an oven mitt as the metal tongs heat up. You may want to use a fork to help maneuver the wonton over the dowel – tongs in one hand and fork in the other is how I did it.) Fry remaining wonton skins. When the dowels fill up, remove the cooled shells to a sheet pan lined with paper towels. These shells are best when made the morning or day of the party.
Just before serving, snip green tops of scallions into skinny 2-inch long strips. Fill wonton shells with chicken, top with scallion strips, and serve on a bed of dry Romaine lettuce so shells don't tip over.
Makes about 24 appetizers