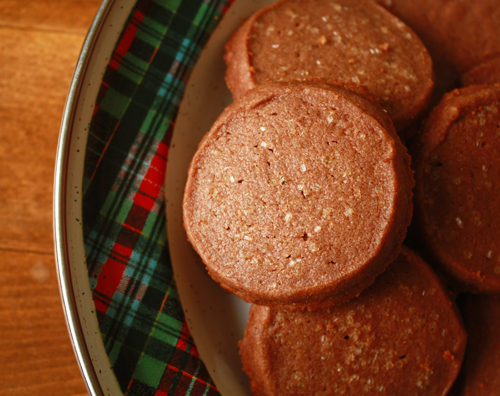 This rich, tasty dough is what I use for chocolate cut-out cookies, but it can be a little delicate for the rolling pin process. For this batch, I made a 1-inch thick log from the dough and then cut round slices. They turned out delicious and would make very cute Christmas cookies!
1 cup unsalted butter, room temperature
3/4 cup granulated sugar
2 hard-cooked egg yolks, mashed
1 egg yolk, slightly beaten
1 tablespoon Hershey's chocolate syrup
2 cups all-purpose flour
2 tablespoons unsweetened cocoa powder
Sugar in the Raw
Preheat oven to 350F (175C). Butter a cookie sheet and coat with flour; shake off excess. Add butter and sugar into a mixing bowl and beat until smooth. Mix in cooked and raw egg yolks, and chocolate syrup. Sift together flour and cocoa powder and gently fold into mixture.
Roll out dough on a heavily floured surface to 1/4-inch thickness. Cut out cookies with 2-inch cookie cutters and place 2 inches apart on prepared baking sheet. Lightly sprinkle Sugar in the Raw or coarse brown sugar over each cookie. Bake for 10 to 15 minutes. Store in an airtight container at room temperature.
Makes about 24 cookies
Variation
You can spiff up these cookies with powdered sugar design.  Cut out a stencil of a heart or flower shape from thin cardboard.  Place the cardboard stencil on the cookie an dust heavily with powdered sugar.  Lift off the cardboard stencil to reveal a beautiful design.