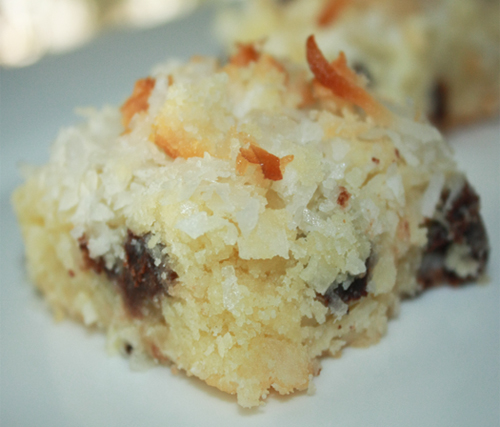 Coconut and chocolate blended with almond paste makes these cookies both sophisticated and simple.  I like to finish off bar cookies with a sprinkling of something on top and a finishing touch of coconut is exquisite.  These Chocolate Chip and Coconut Cookie Bars would make very cute Christmas cookies!
3 1/2 oz. almond paste (1/3 cup, packed)
3/4 cup butter, room temperature
1/3 cup granulated sugar
1 egg
2 tablespoons heavy cream
3/4 cup all-purpose flour
1 cup sweetened, flaked coconut plus 1/2 cup for topping
1/4 cup semi-sweet chocolate chips
Preheat oven to 325F (165C).  Lightly spray an 8-inch square baking pan with a non-stick cooking spray.  Break up almond paste with a fork in a mixing bowl. Add butter to almond paste and beat until smooth and fluffy.  Beat in sugar until smooth. Add eggs, cream, and flour and beat into mixture until thoroughly combined. Fold in 1 cup of coconut and chocolate chips. Stir until just combined.
Spread mixture evenly into prepared baking pan. Bake for 15 minutes. Then, sprinkle remaining 1/2 cup of coconut on top.  Bake for an additional 10 – 15 minutes until done; coconut on top should look lightly browned and a knife inserted into the cookies should come out clean. Remove from oven and cool to room temperature. Cut into 2 x 2-inch squares. Store in an airtight container at room temperature.
Makes 16 cookies