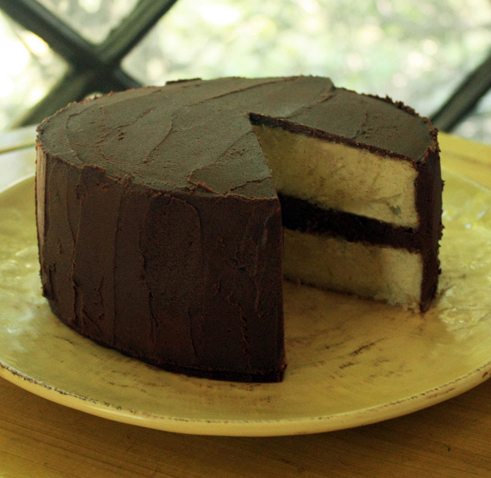 I have been baking my little heart out in search of a scrumptious vanilla cake recipe. Think I found it! After much research and much more trial and tribulation, I went with a type of genoise preparation to give this cake a light yet moist texture that epitomizes a traditional American yellow cake.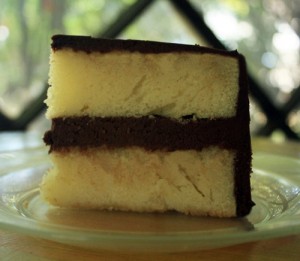 What is "genoise," you may ask? Genoise is a classic cake; a cornerstone in both Italian and French cuisine (although named after the Italian city Genoa), where the eggs and sugar are beaten over heat, or simmering water, in order to strengthen the batter's base and leaven the cake. A genoise is similar to a sponge cake, except with a sponge cake the eggs yolks and whites are separated, yolks are blended with sugar and other ingredients, and then whites are beaten and folded into the batter before baking. A true genoise relies solely on the eggs to keep it light and is made with butter. I chose to add baking powder and used vegetable oil (which makes it a Chiffon cake hybrid!).
Whatever! It's really good and a great go-to recipe for those of you who are fans of homemade baked goods and have been on the hunt for a great yellow or vanilla cake.
Vanilla Yellow Cake
2 large eggs
2 cups sugar
2 1/2 cups cake flour
1 tablespoon baking powder
1/4 teaspoon salt
1 cup whole milk
1 tablespoon vanilla extract
1/2 cup vegetable oil
1 cup hot water
Chocolate Frosting
1 1/2 cups semi-sweet chocolate chips
1 1/3 cup heavy whipping cream
Center a rack in the oven and preheat oven to 350F (175C). Butter inside of 2 (8-inch) round cake pans. Line bottom of pans with wax paper circles. Butter wax paper. Dust entire inside of pans with cake flour, shaking off excess flour. 
Sift together flour, baking powder, and salt. Combine milk and vanilla extract. Measure oil. Have all these ingredients on standby in an area away from the stove. Area should be near an electrical outlet and have a towel on the counter to rest a hot pan upon.
Fill a large saucepan halfway with water and bring to a boil over medium heat. Add eggs and sugar into a large stainless steel (non-reactive) bowl and beat until just combined; about 1 minute. Reduce saucepan heat to medium-low. Hold bowl of eggs and sugar over pan of simmering water – use an oven mitt (duh) and don't let the bowl touch the pan – beat for 5 minutes on high speed until eggs and sugar thicken and are a very pale yellow. Also, ribbons or rather, stiff ripples will form in batter. Remove from heat and transfer your set-up to the dry mixing area where it is cooler.
Place hot bowl with eggs and sugar on towel on counter. Alternately, add dry ingredients, vanilla milk, and oil into eggs while beating on high speed to combine and aerate. Stir in hot water.
Pour mixture, evenly divided, into prepared cakes pan. Bake for 30 minutes or until center springs back to the touch. Remove from oven and cool. Run a knife around the edge of the cakes in pans. Invert one cake on to wax paper and then re-invert on to serving platter. If necessary, slice rounded top off cake so it is level. Invert the other cake on to wax paper and then re-invert on to a plate; slice off top to level if necessary. Cover cakes with plastic wrap and refrigerate until ready to use.   
To make Chocolate Frosting: Place chocolate chips in a glass bowl. Heat cream in a small saucepan until boiling. Pour cream over chips and stir until completely melted and smooth. Cover and refrigerate until mixture solidifies.
For the filling or the layer between cakes, I like to whip this frosting. Transfer 1/3 of the frosting into a bowl and beat on high until light and voluminous; about 2 minutes. Spread this filling on top of the cooled cake on the serving platter. Place the other cake on top; centered of course. Place back in the fridge to firm things up.
After an hour, ice cake with remaining frosting. I usually don't whip this frosting. Just spread it on top and the sides of the cake. Place the cake back in the fridge until serving time! Gloat.  
Makes 8 to 12 servings