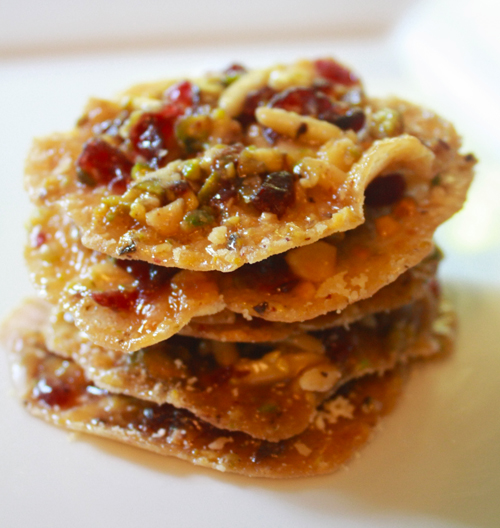 While Florentines are one of my favorite Christmas cookies, have to say, one of the most challenging to bake. Essentially, you cook up a caramel on the stove and then stir in fruit and nuts. Then, you bake, cool, and hope that they peel off the cookie sheet! Copious amounts of butter and flour on the cookie sheet is key and, while other recipes suggest using parchment paper, trust me, it probably won't work and the paper will stick to the bottom of the cookie. My next venture inspired by these Italian sweets is a Florentine-coated Brie or holiday cheese ball. Now that would be worthy this cookie's Renaissance origins!
1/2 cup margarine
1/2 cup brown sugar
1/2 cup light corn syrup
2 tablespoons Baileys Irish Cream OR heavy cream
1/4 cup all-purpose flour
1/2 cup chopped, dried cranberries
1/2 cup slivered almonds
1/2 cup finely chopped pistachios
Preheat oven to 350F (175C). Butter a baking sheet and then scatter flour over butter until flour heavily coats entire sheet.  Combine margarine, sugar, corn syrup, and Baileys (or substitute heavy cream) in a heavy bottom medium saucepan. Bring to a boil over high heat, stirring constantly, and cook for five minutes more. (If mixture foams up, reduce heat to medium and continue stirring.) Remove the pan from heat and stir in the cranberries, pistachios, almonds, and flour until thoroughly combined.
Spoon by level teaspoon 3 inches apart on prepared baking sheet. Bake for 7 minutes until the cookies spread and are sizzling around the edges.  Remove cookies from oven and cool for 2 minutes until slightly firm.  Remove from baking sheet with a spatula.  If cookies tear, cool a minute longer before removing. Allow to harden at room temperature.  Store for three days in an airtight container in your refrigerator.
Makes 24 cookies