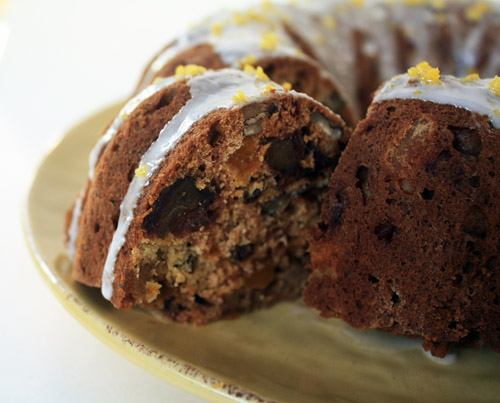 This fruitcake is perfect for the holidays due to the ample amount of spirit in the recipe! My mother receives an Irish Whiskey cake every Christmas from some saucy relative.  The cake is wrapped in a whiskey-soaked cloth and packed in a round tin.  Intrigued by this annual sophisticated gift, I pry off the lid of my Mom's fruit cake tin each year, inhale, and celebrate the fumes. This recipe yields a somewhat dry cake with the intent that it is moistened with whiskey after it bakes and doused with an egg nog glaze. If you wish to skip these liquored-up steps, consider adding about a 1/2 cup more of butter. 
1/2 cup unsalted butter
1 cup brown sugar
3 eggs
1/2 cup Jameson's Irish whiskey
1/4 cup orange juice
1 teaspoon orange zest
1 teaspoon lemon zest
2 cups all-purpose flour
1 teaspoon baking soda
1 teaspoon cinnamon
2 tablespoons finely minced crystallized ginger
1/4 cup finely minced dried apricots
1/4 cup finely minced pitted dates
1/2 cup black dried currants
1/2 cup golden raisins
1 cup coarsely chopped pecans
Eggnog Glaze
1/4 cup prepared egg nog
1/2 cup confectioner's sugar
Preheat oven to 275F (135C).  Grease a 12-cup Bundt pan with vegetable shortening.
Beat butter and sugar until fluffy.  Beat in eggs one at a time until incorporated. Add whiskey, orange juice, and zest and beat well.  Sift together dry ingredients and toss with dried fruit and nuts until coated.  Stir floured fruit into mixture and mix until completely blended.  Pour into prepared pan. Bake for 1 hour or until knife inserted into cake comes out clean.  Cool in pan for 15 minutes and invert cake on to wire rack.       
Cut a 2-foot square of food grade cheesecloth or clean muslin.  Place cake in center of cloth and sprinkle cake with 4 tablespoons whiskey.  Wrap cloth around cake and the wrap cake in aluminum foil for a couple of days. 
Mix together eggnog glaze ingredients and drizzle over top of cake; allow to set. (The fruit cake pictured has orange zest sprinkled on top.) Cut into cake and place slices to serve — or just cut slice for b-fast every morn like I do.  Store at room temperature for up to 1 week.
Makes about 15 servings