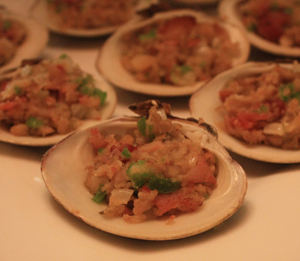 This recipe was the big hit of the night for my MAD MEN Party! So classically 1960s!
6 slices bacon
3 slices white bread, crusts removed
3/4 cup Ritz Crackers
2 tablespoons bacon fat (reserved from cooking bacon)
2 tablespoons butter
1/4 cup minced green pepper
1/4 cup minced onion
1 (6.5 oz.) can chopped clams, drained
1 (6.5 oz.) can minced clams, drained
20 half clam shells, cleaned
Cook bacon until slightly crisp. Remove from pan and reserve 2 tablespoons bacon fat. Chop bacon into coarse bits.
Pulverize white bread and Ritz crackers in a food processor into crumbs. Pour 1 cup of mixutre into a medium bowl.
Saute 2 tablespoons reserved bacon fat, butter, green peppers and onions in a medium skilet over medium-high heat until tender, about 3 – 5 minutes. Add to bread crumb-cracker mixture and stir to incorporate. Stir in chopped bacon and clams until combined.
Place clam shells on a baking sheet. Add 1 – 2 teaspoons clam mixture into each clam shell. (You can prepare these the morning of the party and then cover and refrigerate until serving time.)
Makes about 20 clams