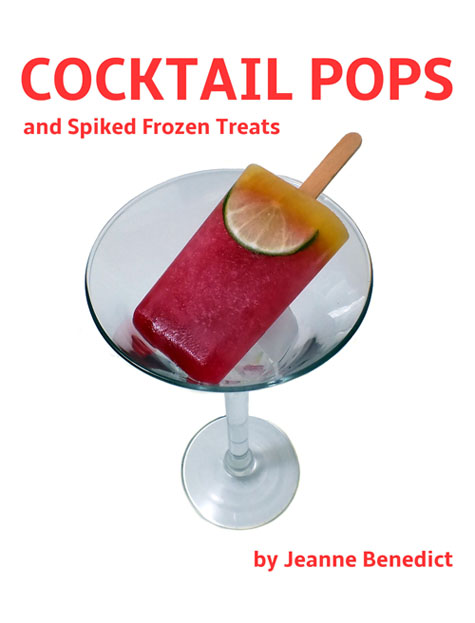 Here it is! My new book ! Pick up a bunch for holiday hostess gifts and one for yourself to make cool treats for any occasion from holidays to dinner parties.
TO BUY IT:  CREATESPACE (print) or AMAZON (print) or on KINDLE for a great price $5.99
Cocktail Pops and Spiked Frozen Treats by Jeanne Benedict
Jeanne Benedict -TV host from the DIY Network series Weekend Entertaining, popular food & lifestyle blogger, and frequent guest on shows such as The Today Show, Access Hollywood Live, and Ellen– presents Cocktail Pops and Spiked Frozen Treats with over 50 recipes and gorgeous photos of potable ice pops and frosty desserts based on America's favorite cocktails! From holiday sweets to cocktail party fare, this book offers a little chilly creativity for every occasion such as:
White Russian Ice Cream Sliders
Appletini Sorbet
Watermelon Margarita Pops
Passionfruit Mojito Pops
Mai Tai Snow Cones
St. Patrick's Day Irish Breakfast Pops
Halloween Candy Corn Cocktail Push Pops
Thanksgiving Bourbon Dulce le Leche Sherbet
Bubblegum Word Pops
Hawaiian Sunset Pops with Black Gummy Palm Tree Pops
Plus, you'll learn tried and true pop tips and techniques:
Ideas for pop sticks, molds, and makers
A "window pane" technique to turn your ice pops into pop art, so that fruit accents and decor ingredients appear clearly
Basic sugar recipes, such as "sugar glue," to keep garnishes in place on the pop
Tips for ice pop display and transportation
Jeanne's talent, creativity, and hard work have earned her a reputation as one of the top lifestyle experts in America for over 10 years. Showcasing her Cocktail Pops on TV has let her know exactly what kind of icy treats people crave based on feedback from those appearances. All these recipes and more are in this book to help give your parties and holidays a cool designer dessert, or for you to simply relax and chill out at a home happy hour.