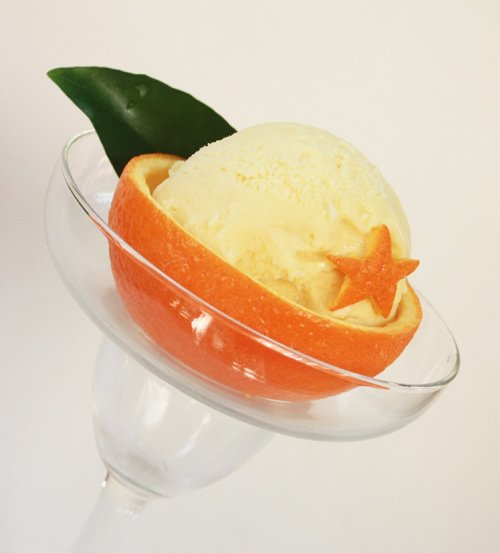 Serve up this sophistictaed treat after a summer dinner party!
5 large egg yolks
3/4 cups granulated sugar
1 1/2 cups skim milk (2%)
Peel of an orange cut into strips
1/4 cup orange juice
1/4 cup vodka
1 tablespoon vanilla
Whole oranges
Whisk together yolks and sugar in a bowl until combined; set aside
Combine milk and orange peel in a heavy, medium saucepan and scald milk. Remove orange peels.
Gradually whisk milk into yolk mixture in slow streams to temper eggs. Whisk in orange juice, vodka, and vanilla. Return mixture to saucepan and reduce heat to low. Stir constantly until mixture thickens slightly, about 8 minutes, but do not let mixture boil. Strain into medium bowl and refrigerate until chilled.
Pour chilled mixture into an ice cream maker and process according to manfacturer's instructions. Transfer into an airtight plastic container and freezer for 2 – 4 hours more to firm up gelato.
Just before serving, cut an orange in half and remove pulp. Scoop gelato into orange shell half and garnish with an orange leaf and orange peel star (made using a mini star-shaped canape cutter).
Makes about 2 1/2 cups