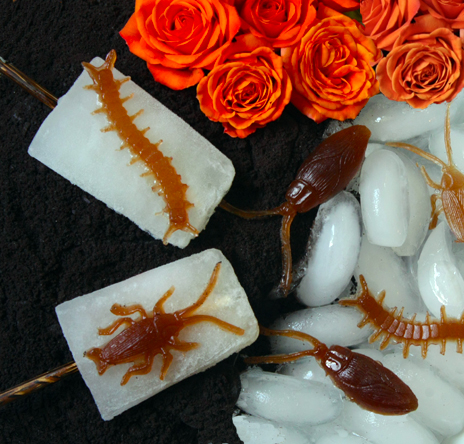 I am super excited about these Creepy Cosmopolitan Cocktail Pops. Ya see, I've been experimenting with gummy candy from worms to big gummy bears and pigs for about a month now, and I feel like I have the perfect gummy candy recipe. But, these cosmo pops are delicious on their own whether you chose to creep them out for Halloween with the gummy bugs or serve them at say….a bridal shower with edible flowers garnishing them!
1 cup white cranberry juice
1/4 cup water
1/3 cup Simple Syrup (recipe below)
1 teaspoon vodka
1 teaspoon triple sec or orange liqueur
1 teaspoon fresh lime juice
Gummy Bugs (recipe here)
Mix together cranberry juice, water, simple syrup, vodka, triple sec, and lime juice. Pour into popsicle molds and freeze. When almost solid, insert popsicle sticks. For wooden chopsticks, swizzle sticks, or DIY popsicle sticks with smooth sides, I recommend that you slide a couple of white gumdrops on to the tip and top portion of the stick before inserting into the pop. Frozen pops tend to slide off a smooth surface stick unless they have something to "grab" on to. Freeze until completely solid.
Make gummy bugs (click here for recipe). Lightly moisten underside of bug and place on a pop. Return to freezer until bug sticks to pop. Serve pops in a bowl on top of ice cubes or right out of the freezer.
Makes about 4 – 6 pops
Simple Syrup Recipe
1 cup granulated sugar
1 cup water
Add sugar and water into a small saucepan and cook over medium-high heat until mixture boils and sugar dissolves; about 5-8 minutes. Cool completely and transfer to a bowl. Cover and refrigerate until ready to use.