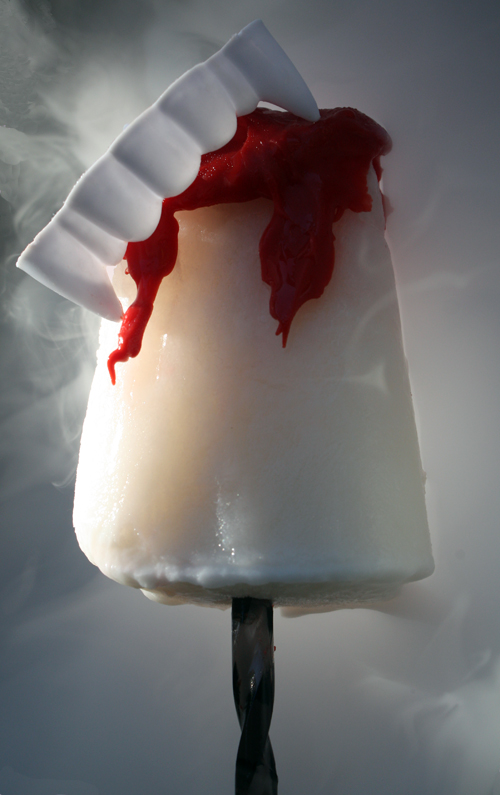 Here's a deliciously chilling treat from my Halloween Today Show Appearance! These colada pops are made with cream of coconut and delightful drips of red chocolate. Accent with plastic vampire fangs, and you have a fabulous freaky frozen dessert!
1 cup coconut water
5 tablespoons Coco Lopez Cream of Coconut
1/3 cup Simple Syrup (recipe below)
2 teaspoons rum
Red Candy Melts
Mix together coconut water, cream of coconut, simple syrup and rum. Pour into popsicle molds and freeze. When almost solid, insert popsicle sticks (or swizzle sticks as pictured). Freeze until completely solid.
Melt Red Candy Melts as per package instructions and cool slightly. Unmold popsicles and drizzle red chocolate on top allowing to drip down pop. Immediately place back in freezer until ready to serve. Garnish with plastic vampire teeth.
Makes about 4 – 6 pops
Simple Syrup Recipe
1 cup granulated sugar
1 cup water
Add sugar and water into a small saucepan and cook over medium-high heat until mixture boils and sugar dissolves; about 5-8 minutes. Cool completely and transfer to a bowl. Cover and refrigerate until ready to use.