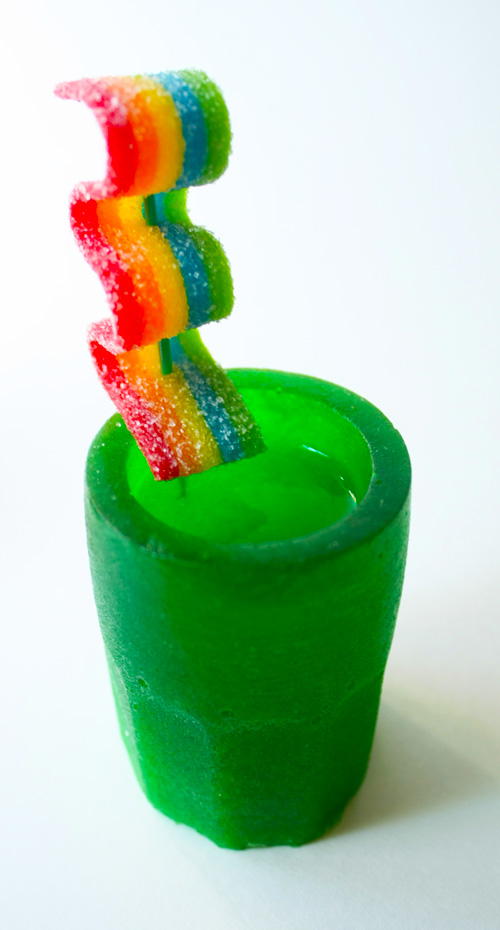 Yes, you can buy gummy shot glasses, but making them is so much fun and really easy. The best part about serving a shot in something tasty, is that the flavor is a built-in mixer. So, go for a straight shot of premium Tequila, such as my favorite Patron Anejo!
1 (6 0z.) box lime gelatin dessert
1/2 cup water
3 (1/4 oz.) envelopes unflavored gelatin
Air Heads Extremes Rainbow Sour Candy Strips
Fred "Cool Shooter" silicone shot glass mold
Patron Anejo Tequila
Mix together lime gelatin, water, and unflavored gelatin in a Pyrex measuring cup. Cover with plastic wrap, and set aside for 10 minutes. Fill a small saucepan about 1/3 full of water and bring to a boil. Remove plastic wrap from measuring cup and place cup in saucepan of boiling water. Heat gelatin mixture, stirring gently and occasionally, for 8 to 10 minutes until a spoon dipped into mixture creates a bouncy thread when pulled out of mixture.
Carefully remove measuring cup from water. After 1 minute, pour into shot glass mold. Cool completely, you can speed this up by putting the mold in the freezer. When set, pull the gummy glasses out of the mold. Refrigerate until ready to serve, garnish with a Rainbow strip slid onto a green plastic pick, and fill with Patron Anejo Tequila!
Makes about 4 gummy glasses
Fred "Cool Shooter" Mold