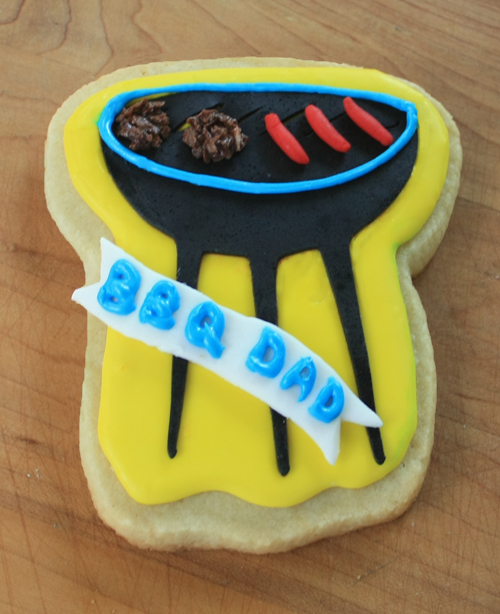 I've been on a cookie and cake making jag of late, because I just received one of the most fabulous machines ever made – the Cricut Cake!
You may have heard of the Cricut, which is a home use tabletop cutting machine developed by Provo Craft. I used the Cricut paper cutting machine extensively in my Set Design for the Peter Pan stage play, and now I have been experimenting with the Cricut Cake cutting out gum paste and fondant shapes to decorate cakes, cookies, and every sweet imaginable.
Steps for the Father's Day BBQ Cookie
1. Purchase pre-made black gum paste (not fondant) as the amount of icing gel you need to color it black may not be as tasty as you like. Or you could make a gray colored BBQ (less gel color needed) or whatever light color you like and coordinate it to your cookie icing color.
2. Roll out gum paste to 1/16-inch thickness using a light dusting of cornstarch (not powdered sugar as it makes the gum paste too sticky).
3. After rolling out the gum paste, place it on a Cricut Cake cutting mat that has been greased with vegetable shortening. Trim the gum paste, if necessary, to fit the mat's outer grid line. Put the gum paste mat in the freezer for at least 10 minutes, preferably 30 minutes. 
4. Prep the Cricut Cake machine. Insert the "From My Kitchen" cartridge and choose the <grill-s> design set at no less than 4 inches. See page 41 in the cartridge book. (This cartridge is made for the paper-cutting Cricut, but you can use it for the Cricut Cake – love that about Cricut.) I use the min. pressure and speed setting on the Cricut Cake machine. Cut out the black gum paste BBQ, making a grill for each cookie you intend to make. Remove the BBQ shapes, place them on wax paper, and put them back into the freezer on a flat surface until you need them. 
4. Click here for my shortbread sugar cookie and icing recipe. Make the cookie dough and chill it according to the recipe instructions. 
5. **Now here's the crafty part**  Take one of the gum paste BBQ grills out of the freezer and place it on a piece of cardstock or paper. Trace around the BBQ leaving about a 1/2-inch excess around the border to make a pattern for the cookies. Put the gum paste back into the freezer. Cut out the cookie paper pattern. (If you have a designated Cricut paper cutter, just cut out a cardstock grill pattern at 4 1/2 inches.)
5. Roll out the cookie dough to 1/4-inch thickness. Use the paper BBQ grill pattern to cut out grill cookie shapes. Bake and cool according to recipe instructions. 
6. Make cookie icing according to cookie recipe icing instructions and tint it to desired color using food icing gel. Transfer icing into a pastry bag fitted with a no. 4 tip and pipe an icing border around the cookie, then flood icing within border on cookie – this is what I did for the yellow cookie icing. OR you can spread icing on cookie with a butter knife or offset spatula. Allow icing to set. 
7. After icing is set, moistened back of grill gum paste shapes and apply on to cookies along with sweet BBQ food items.  The hot dogs were made from red fondant and the burgers from a melted dark chocolate and coconut, both of which I handcrafted. I piped "BBQ DAD" using blue cookie icing on to a strip of white fondant and made a sweet for my sweet husband on Father's Day.
 I think that's it! But if you have any more questions about the cookie, please comment and I will try my bestest to answer swiftly!