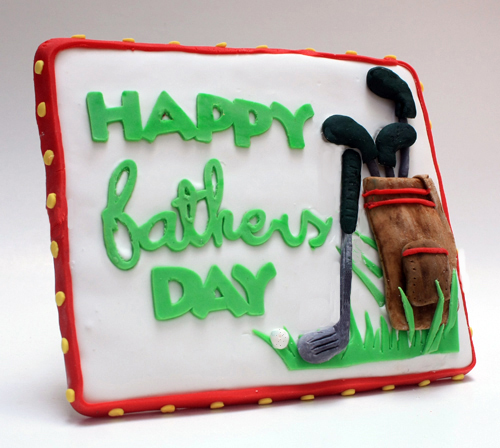 Made this Father's Day cookie today! Seems like so many guys love golf that I thought it would match up with a dad on their day. My husband is more of the chef type, so I hope I got the golf bag right! 
Here's the recipe and icing for the cookie. The "Happy Father's Day" was made using green gum paste and the Cricut Cake machine with the Holiday Cakes cartridge set on the font button for the <Vaction5> option with a car character; see page 72 in the guidebook that comes with the cartridge. I molded the gum paste and fondant golf bag, clubs, and all other decor elements by hand or cut them free-form. Click here for tips on using gum paste and the Cricut Cake.
oh, and HAPPY FATHER'S DAY!!!!!!!