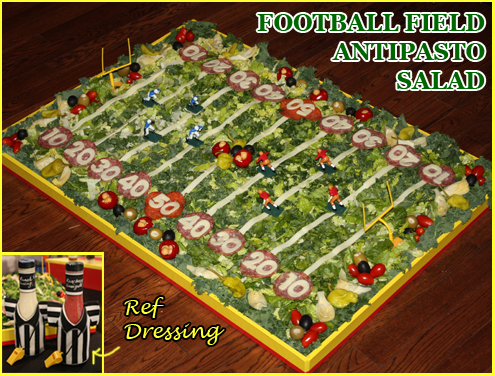 I have been dreaming about this football field salad for years, and I finally created it for a KCAL9 Super Bowl TV segment. Along with the salad, I made some Buffalo Chicken and Blue Cheese Bacon Cups. Beyond good! Party City was my go-to for the awesome Super Bowl party decoration elements, such as the Ref Dressing Bottle Cover, and Gelson's Grocery Store in my area was where I got all my salad ingredients including antipasto "star players" like garlic-stuffed olives and red cherry peppers.
Football Field Antipasto Salad
@3-foot-x-2-foot wood tray (I made one!)
9 heads baby Romaine lettuce, chopped
2 head kale, finely chopped
Football Player and Goal Post from Party City
1 lb. mozzarella or provolone cheese
8 oz. sliced salami
8 oz. sliced pepperoni
1 can artichoke hearts
1 can large black olives
1 can garbanzo beans
1 small pack red pear tomatoes
1 jar pepperoncini
From Gelson's Olive cart:
Garlic stuffed green olives
Red cherry peppers
So, this salad is WYSIWYG…or what you make! I used mini cookie cutters to make the numbers on the football field and placed them on sliced deli meat for visual impact. I used a wooden craft stick as a measure to cut out equal width cheese strips used as the yard lines. And, I inserted the goal posts into small blocks of cheddar cheese to make the stand upright. Once you've constructed your football filed, place the players on offense and defense!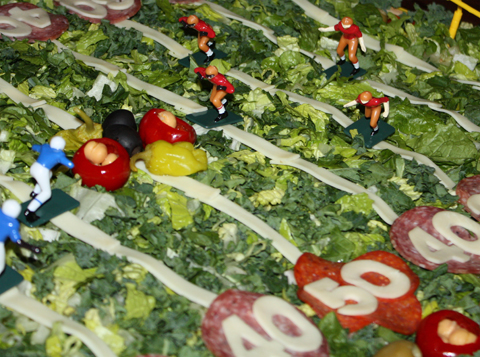 The Ref Salad Dressings complete the idea of this massive Super Bowl salad presentation. I looked for salad dressing in a bottle that would fit the Ref Jersey (designed for beer bottles) and ended up using the Marie brand. As a finishing touch I removed the labels from the dressing bottle neck and made my own with etchable self-adhesive drink cup labels from Party City.