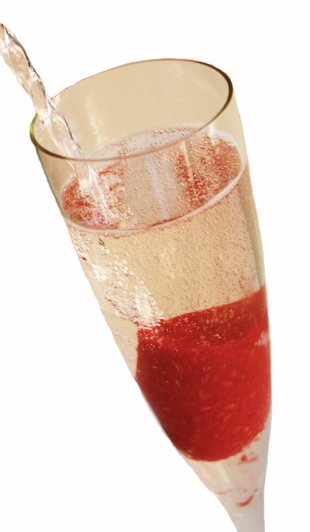 This Champagne cocktail pop is perfect for a brunch. Serve the Raspberry Pop Swizzle Sticks on ice next to a bottle of Champagne and flutes for guests to grab and plunge into some bubbly.
1/2 cup fresh or frozen raspberries
1 tablespoon Chambord liqueur
1/2 teaspoon sugar
Plastic swizzle sticks
Shot glass molds
Champagne
Puree raspberries, Chambord liqueur, and sugar in a blender until smooth. Pour mixture into a tapered pop mold or the insert cavity of a shot glass mold. Insert a plastic swizzle stick into the puree in mold and freeze until solid.
When ready to serve, unmold raspberry pop swizzle stick, and place into a Champagne flute. Pour Champagne into the flute over raspberry pop and serve!
Makes 4 – 8 servings