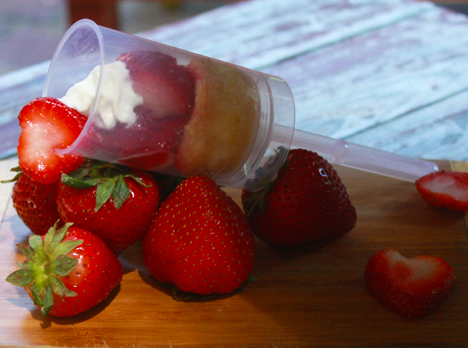 This recipe is ridiculously easy, and ridonkulously good.  The great thing about push pop molds is that they have somewhat of an airtight seal at the bottom so you can add a nice amount of liquid without it leaking out. Amaretto-soused pound cake, topped with strawberries and whipped cream…beyond good.
1lb. loaf pound cake, cut into 1-inch thick slices
1 lb. package strawberries, coarsely chopped
Amaretto
Whipped cream (canned is fine)
Sliced strawberries for garnish
12 – 14 Push pop molds
Place pound cake slices on a flat surface. Stamp out cake circles using push pop molds and slide each cake circle down into mold as the bottom layer. Add 1 tablespoon chopped strawberries per mold. Drizzle 1 tablespoon Amaretto over ingredients in each mold and place push pop cap on top of mold; freeze for at least 2 hours.
When ready to serve, pipe whipped cream on top of frozen strawberry layer. Add 1 teaspoon of Amaretto over whipped cream and a strawberry slice on the edge of the mold as a garnish.
Makes about 12 to 14 Push Pops