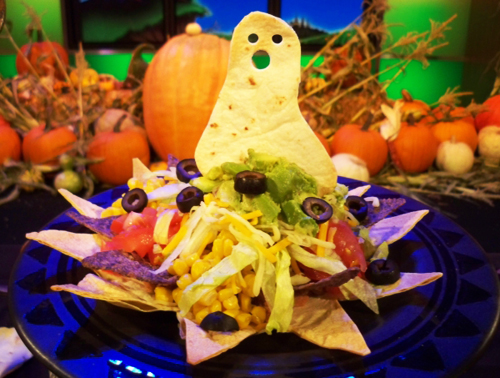 Tortillas are so easy to work with and ideal for Halloween. The topper on this Ghost-ada is a flour tortilla cut into the shape of a ghost with a couple of holes for his eyes and mouth.
1. Cut flour tortillas into ghost shapes. Place ghosts on a baking sheet and cook for 5 to 8 minutes at 350 degrees until crisp and a bit browned. Also, bake up a large (@8-inch) round tortilla for the Ghost-ada base.
2. Pile ingredients on to the tostada base starting with ground meat or refried beans, shredded lettuce, shredded cheese, guacamole, sour cream, and a ghost tortilla chip as a garnish.
3. Add piles of black beans, corn, and tomatoes around the perimeter of the Ghost-ada for pizzazz.