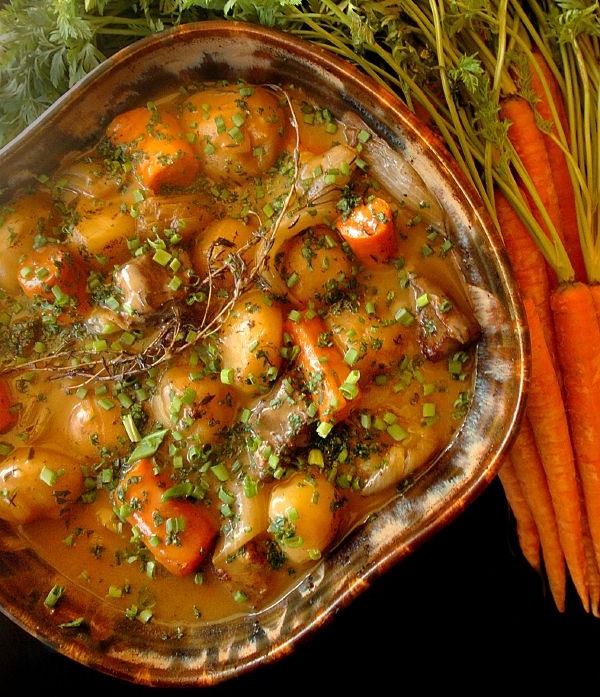 Ginger Snap cookies are used as a thickening ingredient in this stew and add a zip to this traditional St. Patrick's Day favorite. I originally wrote this recipe for my book Celebrations which was published in 2001. Since then I've prepared the recipe in many ways including swapping out half of the water for Guinnesss Stout and another variation which gives it a meditteranean spin with the addition of fresh mint and crumbled feta on top.
2 tablespoons vegetable oil
2 cloves garlic, minced
3 lbs. lamb stew meat, cut in 1-inch chunks
4 large carrots, peeled, cut in chunks
2 onions, peeled, cut in slivers
4 Russet potatoes, scrubbed, cut in 1-inch chunks
1 cup frozen peas
2 tbsp fresh parsley, chopped
1 teaspoon thyme leaves
1/2 teaspoon salt
1/2 teaspoon black pepper
4 cups beef broth
3 cups water
10 crushed ginger snap cookies
Heat oil and garlic in a large stockpot over medium-high heat. Add lamb and cook, turning frequently, until browned on all sides. Add remaining ingredients to pot and bring to a boil. Reduce heat to low and cover. Cook for 2 hours, stirring occasionally, until lamb is done and vegetables are tender. Serve in a hollowed out round loaf of bread or in individual bowls.
Makes 8 servings