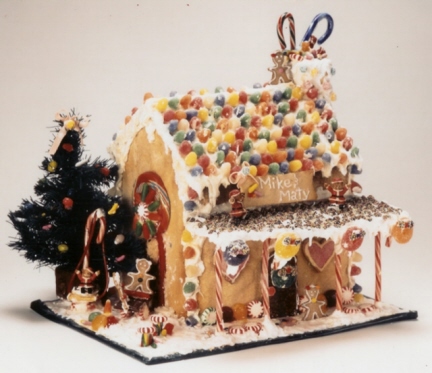 This is the gingerbread house recipe I've be using for years! You may have a treasured family gingerbread recipe that you wish to use and that's great — as long as the dough isn't too moist or your house could collapse! (This is the reason I suggest using a cardboard structure underneath the gingerbread house in a subsequent blog post when making gingerbread houses with kids.)  I've found that using vegetable shortening makes for a firmer dough.  Also, margarine gives it that hint of butter flavor without making the dough too creamy, as butter tends to do.  I prefer granulated sugar as opposed to brown sugar for a stiffer dough. Plus, you'll see cocoa in this recipe which gives the gingerbread a rich color without making it too moist.  
Gingerbread House Recipe
1/2 cup margarine
1/2 cup vegetable shortening
1 cup granulated sugar
1 egg
3/4 cup molasses
1 tablespoon white wine vinegar
3 tablespoons ground ginger
2 teaspoons ground cinnamon
1 1/2 teaspoons baking powder
1/2 teaspoon salt
5 1/2 cups all-purpose flour
2 tablespoons unsweetened cocoa
2 batches make 1 big gingerbread house
Cream together margarine, shortening and sugar.  Beat in egg, and gradually add molasses and vinegar. Sift together dry ingredients. Add dry ingredients, 1 cup at a time to mixture, beating until thoroughly combined.  You may have to knead in the last cup of flour mixture if you don't have a strong electric mixer or you may burn out the motor.  Form gingerbread dough into a flattened ball, cover with plastic wrap and chill for 3 hours. Do not double this recipe. Make the first batch, and chill it while making the second batch.  
Preheat the oven to 350F. Divide the gingerbread dough in 1/2, keeping any unused dough cover in plastic wrapped and chilled.  Roll out 1/2 of the dough on a heavily floured sheet of aluminum foil.  Use one sheet separate per each gingerbread house piece, that way you can transfer your cut cookie house pieces to the cookie sheet without stretching the dough out of shape. It is best to use a heavy rolling pin so you have a nice smooth surface for your walls.  Scatter flour on top of the dough so the dough doesn't stick to the pin while rolling. Roll out the dough to an even 1/4" thickness. Uneven dough will bake at different rates, causing one part of a wall to be too soft while a thinner edge may brown too quickly.  Scrape the rolling pin during the process as bits of dough tend to cling and make depressions in the surface or they stick to the surface and bubble while baking.
Place your cardboard house patterns on the rolled out dough and cut out the gingerbread house pieces using a sharp knife.  Place the individual sheets of aluminum foil with the cut house pieces on them on a cookie sheet. If you only have a couple of cookie sheets, don't roll out all the dough and cut all the house pieces at once, leaving them unchilled while the other ones bake. Measure how many and which of your house pieces will fit on each sheet and plan accordingly, keeping any unused gingerbread dough chilled until ready to use.  The firmer or more chilled your raw dough is, the firmer the baked cookies will be. Bake at 350 for 10 minutes or until the gingerbread turns a rich brown color and is a little over baked.  If your corners or sides are browning quicker than the center of the house pieces, with make an aluminum foil tent and cover directly over the problem areas only.  Test for doneness by touching the center and if it is firm and almost hard, it is done.  Let your gingerbread house pieces cool completely before removing them from the cookie sheets. Leave the gingerbread uncovered in a cool place so it has a chance to settle and wait at least three hours before building your house. 
Gingerbread House Icing Recipe
Most gingerbread icing recipes suggest using Royal Icing which contains raw egg. I've always used a much simpler gingerbread house glue recipe because I'm not keen on the idea of my kids munching on the gingerbread house after a week or so with a raw egg-based icing that isn't refrigerated.  Raw egg whites sitting at room temperature even for a few hours is a bad idea.  But a whole week?  You don't need to use them so why risk a child's or your own health?  The benefit to using an egg white-based icing is that its consistency is perfect for pastry bag piping which creates a pretty detailing on the house.  A powdered sugar and water based icing will not work with a pastry bag as it is to thick and doesn't have the elasticity that egg whites add to icing.  You could use meringue powder according to the directions on the label for a Royal Icing, it's just a bit more expensive.  This sugar glue recipe has worked well for me all these years.        
1 cup powdered sugar
2 – 3 tablespoons of water 
Make about 10 batches per one house
You can double or even triple this recipe, but don't make all 10 batches at once or it will dry out.  Mix the powdered sugar and 2 tablespoons of water into a thick cement-like mixture.  Mix thoroughly until the gingerbread house icing just loses its gloss. Add more water by the teaspoon if you need to, but you want that thick texture so you can just smear it on the gingerbread cookies or candy and have it stick almost immediately.   
Read on for More Gingerbread House Ideas and Tips: