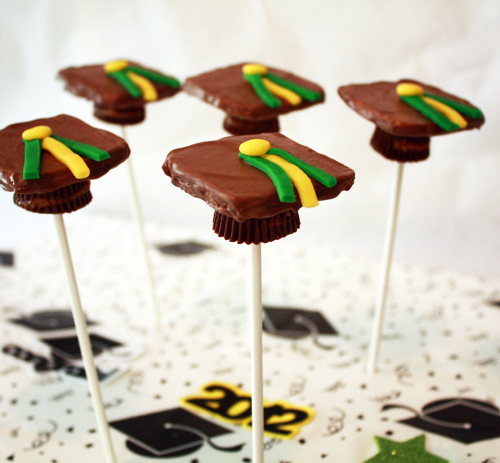 My son is graduating from 8th grade! I am so proud of him and his friends that I made a bunch of grad cap cookie pops for the entire grade and surprised them the other morning.  I used a Reese's Peanut Butter Cup for the bottom part of the cap and a homemade butter cookie covered in chocolate for the mortar board. The tassels are made from fondant.
Displaying cookie pops is another issue as you want them to be upright and we're talking about 100+ pops! I bought 20X30-inch foam boards at the dollar store and cut them in half making 20X15-inch boards. I hot glued 5 boards together to make a base thick enough to support the pops. Then, I covered the boards with a plastic graduation theme tablecloth and poked holes through the top of the board. I inserted the pop sticks into the holes and was able to create a very affordable and attractive display.
Congrats to the 2012 Graduates!