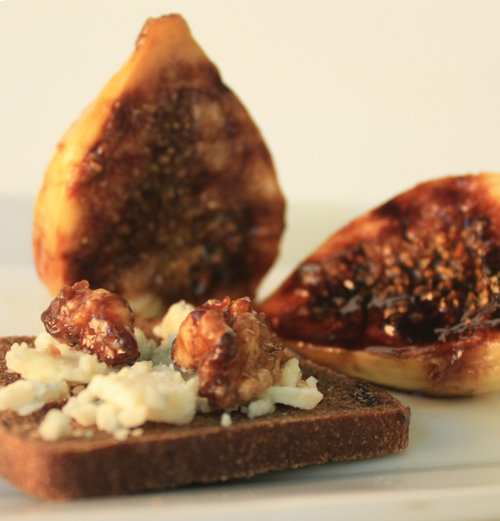 This recipe is so very Napa 2000. I was in my favorite local Russian market buying caviar and they had a sale on fresh figs – 79 cents for a basket of 8! "Figs on the grill," I thought, "as an afternoon respite between the Quail Eggs Benedict Blini and other pancake-topped delicacies I had planned for brunch." Boy, these were tasty. More tasty than I'd imagined and so gorgeous on the grill.
1 cup balsamic vinegar (I used a raspberry balsamic vinegar – so good)
2 tablespoons golden brown sugar
1 tablespoon butter
1/2 cup coarsely chopped walnuts or walnut halves
6 fresh figs
12 cocktail slices pumpernickel (2 1/2-inch squares)
2 tablespoons honey
3/4 cup crumbled Roquefort cheese
Heat balsamic vinegar in a small saucepan over medium-high heat until it thickens and reduces to 1/4 cup; about 10 minutes. Pour into a heat-proof ramekin and set aside.
Add brown sugar, butter, and walnuts into a small skillet and sauté over medium-high heat until sugar caramelizes and walnuts are toasted; about 3 to 5 minutes. Remove from heat and set aside.
Even though the skins on figs are consumable, I prefer to remove the skin before grilling. An easy way to do this is to bring a large pot of water to boil on the stove. Immerse figs for 45 seconds and then immediately plunge figs into a bowl of ice water. When cool enough, peel the skin off the figs. Pat figs dry with a paper towel and slice in half lengthwise for grilling.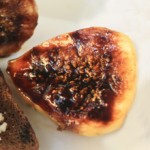 Oil the grate on grill using olive or canola oil. Heat grill on medium low, and place fig halves face down on grate. Cook for 3 to 5 minutes until figs have nice grill marks. Remove from heat on to a platter and drizzle balsamic syrup on grilled side of figs.
Toast pumpernickel and spread 1/2 teaspoon of honey or each slice. Top with 1 tablespoon Roquefort and a candied walnut.
Arrange figs and Roquefort walnut pumpernickel toast on a large platter or individual plates and serve warm.
Makes 12 figs and toast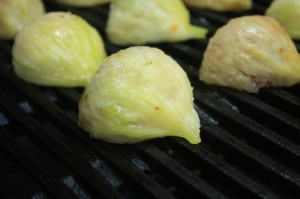 Gorgeous Figs on the Grill