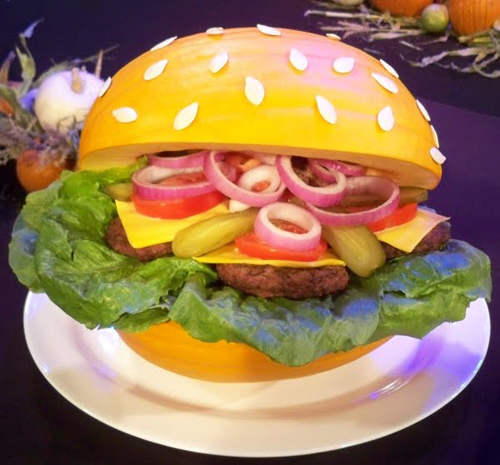 This huge "pumpkin bun" hamburger gives new meaning to "The Great Pumpkin." While you're hunting through pumpkin patches looking for the perfect Jack-O-Lantern palette, pick up an oblong pumpkin to make this fun "platter." Serve it to the kids (with some brad buns on the side) as a make-your-own burger dinner on Halloween before trick-or-treating to fill them up before the massive sweet-fest! 
Steps:
1. Find an oblong pumpkin, which will replicate the huge hamburger bun. Place the pumpkin on its side and cut away the stem. Cut a wedge out of the front side of the pumpkin (see photo) so it looks like an open hamburger bun. Remove pulp and seeds from inside.
2. Dry some pumpkin seeds and glue them on the top of the pumpkin to look like sesame seeds.
3. Add romaine lettuce to the bottom portion of the pumpkin and overflowing down the front side. Pile burgers, cheese slices, pickles, tomatoes, and onions on the lettuce to create a family style platter of burgers in a fab pumpkin bun!