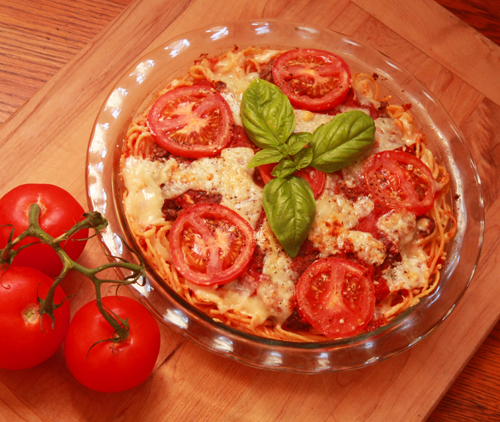 I have a picky little eater in my home, as many kids are, and so I usually end up making some pasta for my daughter just in case she doesn't like the fussy fare I've prepared for dinner. Consequently, we always seem to have bowls of leftover spaghetti in the fridge that go to waste and take up space. The other night I was assessing my dinner options and instead of using the ground beef I had on hand for burgers, I decided to make this Leftover Spaghetti with Meatballs Pie! As you may be able to see from the slice below, rather than a bunch of meatball halves on top, I decided to make a thin layer of beef flavored as a meatball. My reason for this (other than being a little lazy at the thought of forming the meatballs), was that the beef would cook evenly and be well-seasoned with every bite, as opposed to many meatballs that have a tasty outer coating and not as much flavor on the inside. The result was delicious and a favorite new dinner idea for my family.
Meatball Topping
1 lb. ground beef
1 egg
1/2 cup grated Parmesan cheese
2 tablespoons marinara or red sauce
1 tablespoon dried basil
1/2 teaspoon salt
1/4 teaspoon pepper
Spaghetti Layer
1 lb. cooked spaghetti
1/2 cup marinara or red sauce
1/2 cup Parmesan cheese
Garnish
1/2 cup red sauce
1/4 cup shaved Parmesan cheese
1 large sliced tomato
Basil leaves (optional)
Preheat the oven to 350 degrees.
To make Meatball Topping: Mix together all ingredients for meatball topping until thoroughly combined.  Form a large thin patty, with a diameter the size of your pie plate, and cook in a large skillet over medium-high heat. After about 8 – 10 minutes, check to see if the underside is browned. Pour off the grease. Carefully flip the patty trying to keep it intact. I used a heatproof plate as a spatula to help with this, but a large spatula should work fine. When the other side is browned, slide the patty on to a plate.
Lightly oil a pie plate. Combine the ingredients for the Spaghetti Layer, and press down into the pie plate. Slide meat patty on top and garnish with red sauce, shaved Parmesan, and tomato slices. Cook for 15 minutes. Then, turn on the broiler and cook for 3 – 5 minutes until cheese just begins to turn golden brown. Remove from heat.
Hot and right out of the oven, the spaghetti layer may not keep a perfect pie shape when you cut into it, but after it has cooled down a bit you should be able to slice lovely pieces of Leftover Spaghetti with Meatballs Pie!
Makes about 8 – 12 slices