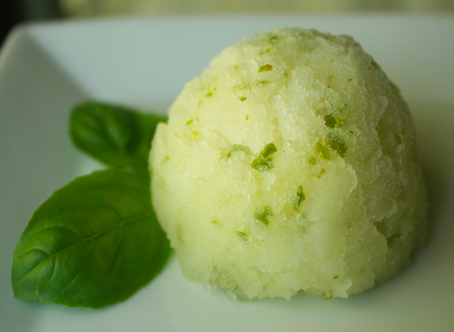 Pucker up! This Lemon Basil Sorbet is sweet and sour; a perfect palate cleanser for a summer meal.
2 cups fresh lemon juice
1 1/4 cup simple syrup (recipe below)
2 tablespoons minced fresh basil leaves
Combine lemon juice and simple syrup, and pour into an ice cream maker per manufacturer's instructions. I use the Kitchen Aid ice cream maker attachment and freezer bowl. It was only about $30 at Target, and I didn't want to buy a new appliance (running out of cabinet space!).
After 10 minutes or when sorbet has thickened, stir in basil and transfer into a plastic container with a lid. Freeze for at least 4 hours or overnight.
Makes about 6 to 12 servings depending on the size of your scoop!
Simple Syrup Recipe
1 cup granulated sugar
1 cup water
Add sugar and water into a small saucepan and cook over medium-high heat until mixture boils and sugar dissolves; about 5-8 minutes. Cool completely and transfer to a bowl. Cover and refrigerate until ready to use.