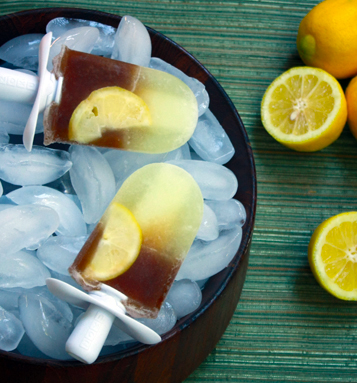 I made these Long Island Ice Tea Pops with the ever fabulous Zoku Quick Pop Maker. The Zoku peeps have a great recipe blog, and I remember seeing some lemon slices in one of their pops, which inspired this recipe that I shared recently on the Today show.
1 cup cola
1/2 cup cold water
1/2 cup sweet and sour mixer (pre-mixed in a bottle)
3 teaspoons sugar (divided)
1 teaspoon vodka
1 teaspoon rum
1 teaspoon gin
1 teaspoon Tequila
1/2 teaspoon triple sec
Lemon slices cut in half circles
Zoku Quick Pop Maker (recommend 3- pop model)
Read manufacturer's instructions for Zoku Quick Pop Maker. Place pop maker in freezer overnight.
Pour cola into a glass, loosely cover with plastic wrap, and let stand overnight so it loses its carbonation. After that, stir in 2 teaspoons of sugar, cover, and set aside.
Combine water, sweet and sour mixer, 1 teaspoon sugar, and all liquor in a bowl.
Remove Zoku Quick Pop Maker from freezer. Press a half circle lemon slice against the wall in the cavity of each pop maker mold. Pour in 1 oz. of the sweet and sour mixture and allow to freeze; about 5 – 8 minutes. Fill remaining portion of mold with cola. (Place entire mold back into freezer to speed up the process.) Freeze completely, unmold, and enjoy!
Makes about 8 pops