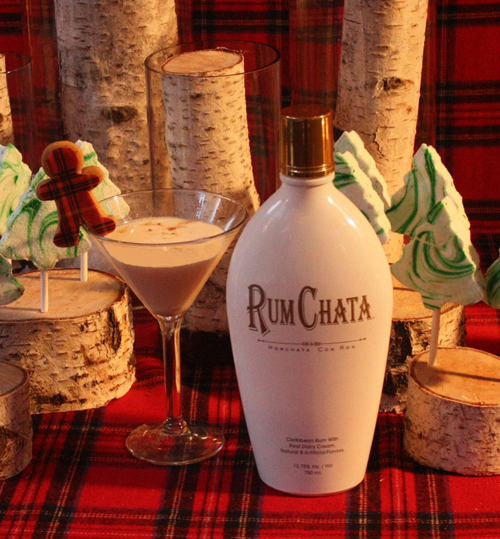 RumChata liqueur, with its delicious blend of real Wisconsin dairy cream, cinnamon, sugar and vanilla perfectly balanced with five times distilled Caribbean rum, inspired this Mad for Plaid Christmas Party theme! The name "RumChata" comes from the fact that the liqueur is essentially horchata, a Latin sweet rice beverage, with rum. The horchata keeps the spirit light and smooth to where it mixes beautifully with the holiday favorites egg nog and hot chocolate. But, I prefer it solo or hand-crafted into a unique signature cocktail as I've done for this plaid party idea along with a menu full of holiday sweets!
RumChata Gingerbread Martini
3 parts RumChata
1 part Torani gingerbread syrup (or substitute Hiram Walker Gingerbread Liqueur)
2 parts vanilla rum
Shake with ice and strain into a martini glass. Garnish with gingerbread cookie crumbles.
To play out the theme on the drink, I applied plaid edible wafer paper to a gingerbread man cookie and used melted chocolate to stick him to the rim ~ very festive!
I wanted to created a birch forest as the centerpiece for the party table. Birch is always stunning on the tabletop! I drilled holes into the ends of birch logs and inserted Minty Marbled Christmas Tree Marshmallow Lollipops! (Here's an easy homemade marshmallow recipe you can use. Substitute fresh mint for the rosemary and swirl green food coloring on top of the marshmallow mixture after you pour it into the pan.)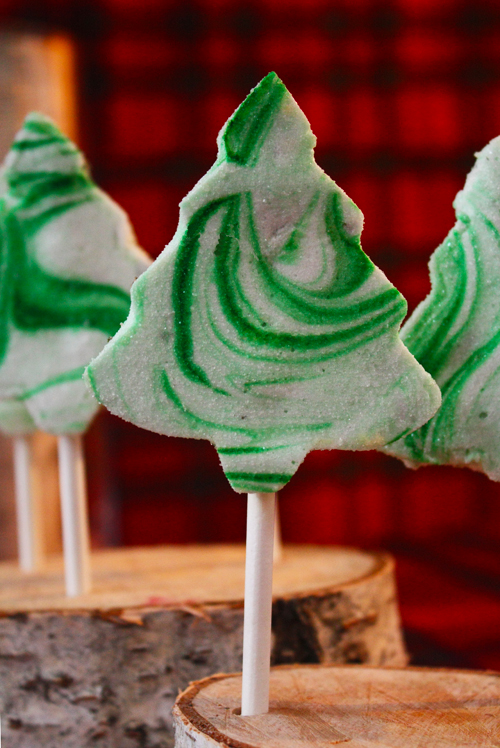 I got the plaid edible wafer paper from the online baking supply shop Fancy Flours and pretty much went mad with the plaid design on my sweets! Wafer paper is really easy to use. The sheets are the same size as printer paper, 8.5 X 11. You cut out the image or shape you want from the wafer paper and apply it to a cookie, cupcake, fondant medallion, etc…using corn syrup.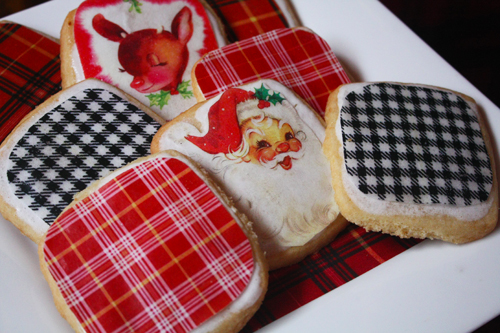 These Santa Hat Macaroons were a big hit; but then, when are macaroons not the first to go on a dessert table? I used red candy melt chocolates to make the Santa hat and topped it with a marshmallow rolled in coconut, water, and powdered sugar. The hat's trim is white fondant. (Click here for the recipe!)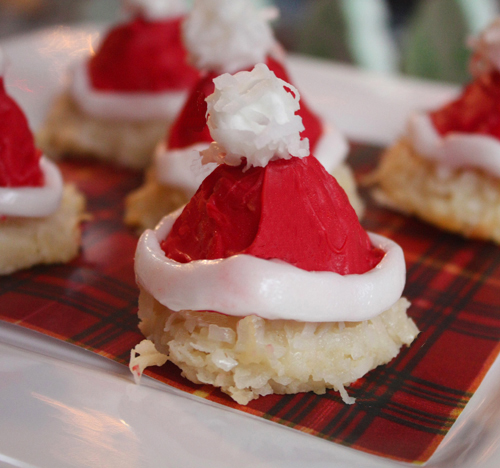 These cute white chocolate mousse cups with peppermint brickle on top were also a fave!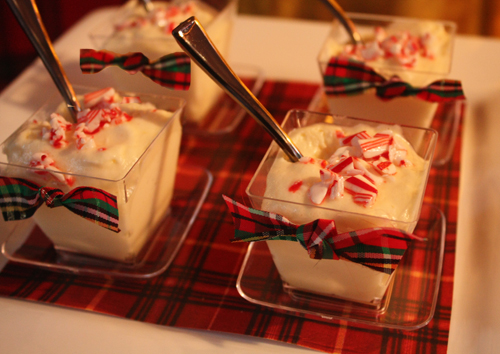 Finally, I used a gingerbread box mix and canned cream cheese frosting to make these plaid clad cupcakes!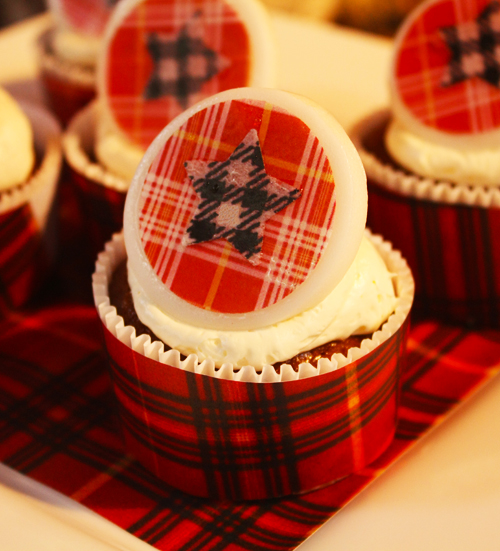 RumChata is great for the holidays whether you are serving up cocktails at your Christmas party or bringing the liqueur plus shaker as a gift set!LIKE RumChata on Facebook for more exquisite recipes, most notably, RumChata French Toast for a holiday morning brunch!